Chickpea Wraps
Hi friends! Today we're going to explore a delightful and wholesome recipe that's perfect for a quick meal or a leisurely lunch – Chickpea Wraps!
These wraps are packed with flavor and texture. They're filling, nutritious, and made with simple ingredients.
The star of this wrap is the chickpea filling, which is a delightful combination of simple ingredients: Mashed chickpeas, shredded carrots, diced onion, chipotle mayo, sweet relish, lemon juice, and freshly chopped cilantro.
This mixture boasts a rich, creamy consistency that pairs beautifully with the tortilla. The chipotle mayo brings a smoky kick, while the sweet relish and lemon juice add a perfect balance of heat and tangy sweetness. Lastly, the cilantro adds an aromatic freshness that ties everything together.
This wrap is also super easy to prepare/assemble. Start by placing a tortilla on a chopping board and layer it with lettuce and shredded cabbage.
Next, generously spread the chickpea filling you prepared earlier onto the tortilla, ensuring an even distribution of flavors. Then seal the wrap (see video instruction below) and fry.
Let's go! 🙂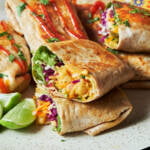 Print
Chickpea Wraps
Wholesome and filling chickpea wraps recipe.
Pin Recipe
Ingredients
1.5

cups

cooked chickpeas

(or use canned)

1

cup

shredded carrot

1/2

cup

diced onion

1

teaspoon

garlic powder

6

tablespoons

chipotle mayo

(use more if needed)

2

tablespoons

sweet relish

2

tablespoons

lemon juice

1/2

cup

freshly chopped cilantro

Lettuce

Shredded cabbage

2

tablespoons

olive oil

Ketchup (or your fav condiment)
Instructions
Step A : Prepare the chickpea filling
Add the cooked/canned chickpeas to a large mixing bowl. Lightly mash using a potato masher.

Add shredded carrot + diced onion + garlic powder + chipotle mayo + sweet relish + lemon juice + salt + pepper + freshly chopped cilantro.

Mix well using a spatula until the filling is combined and creamy. Set aside.
Step B : Assemble the tortilla
Place a tortilla on a chopping board.

Place a lettuce leaf on top of it (just below the center of the tortilla).

Spread shredded cabbage evenly over the leaf. Then add the chickpea filling on top.

Gently roll the tortilla - folding the sides as you roll your way up to the top (see the recipe video for reference).

Set aside and repeat the same for the rest of the tortilla-chickpea filling.
Step C : Fry the wrap
Set a pan over medium heat. Add 1-2 tablespoons olive oil.

Once it's hot, add the tortilla wraps, seam side facing down (my pan accommodates 3 wraps at a time; yours may vary), and fry until they're golden brown. Flip and fry the other side.

Repeat the same for the remaining wraps. Add more olive oil if needed.

Chickpea wraps are ready. Transfer to serving plates, drizzle your fav condiment, and enjoy!
Nutrition
Calories:
357
kcal
|
Carbohydrates:
41
g
|
Protein:
8
g
|
Fat:
18
g
|
Saturated Fat:
3
g
|
Polyunsaturated Fat:
1
g
|
Monounsaturated Fat:
4
g
|
Sodium:
426
mg
|
Potassium:
234
mg
|
Fiber:
7
g
|
Sugar:
7
g
|
Vitamin A:
3727
IU
|
Vitamin C:
6
mg
|
Calcium:
115
mg
|
Iron:
3
mg
If you enjoyed this Chickpea Wraps recipe, check out these delicious Rice Paper Tofu Dumplings I posted earlier.
If you like to support me and my work, check out my Indian Vegan, Air Fryer Vegan, and all my upcoming cookbooks where I teach you how to make hundreds of delicious plant-based recipes.
Thank you for stopping by!
Keywords: vegan tortilla wrap, plant-based lunch, wholesome chickpea meal, easy vegan recipe, protein-packed wrap, fiber-rich, dinner ideas, versatile vegan wrap, chickpea snack, chickpea meal prep, nutritious plant-based dinner