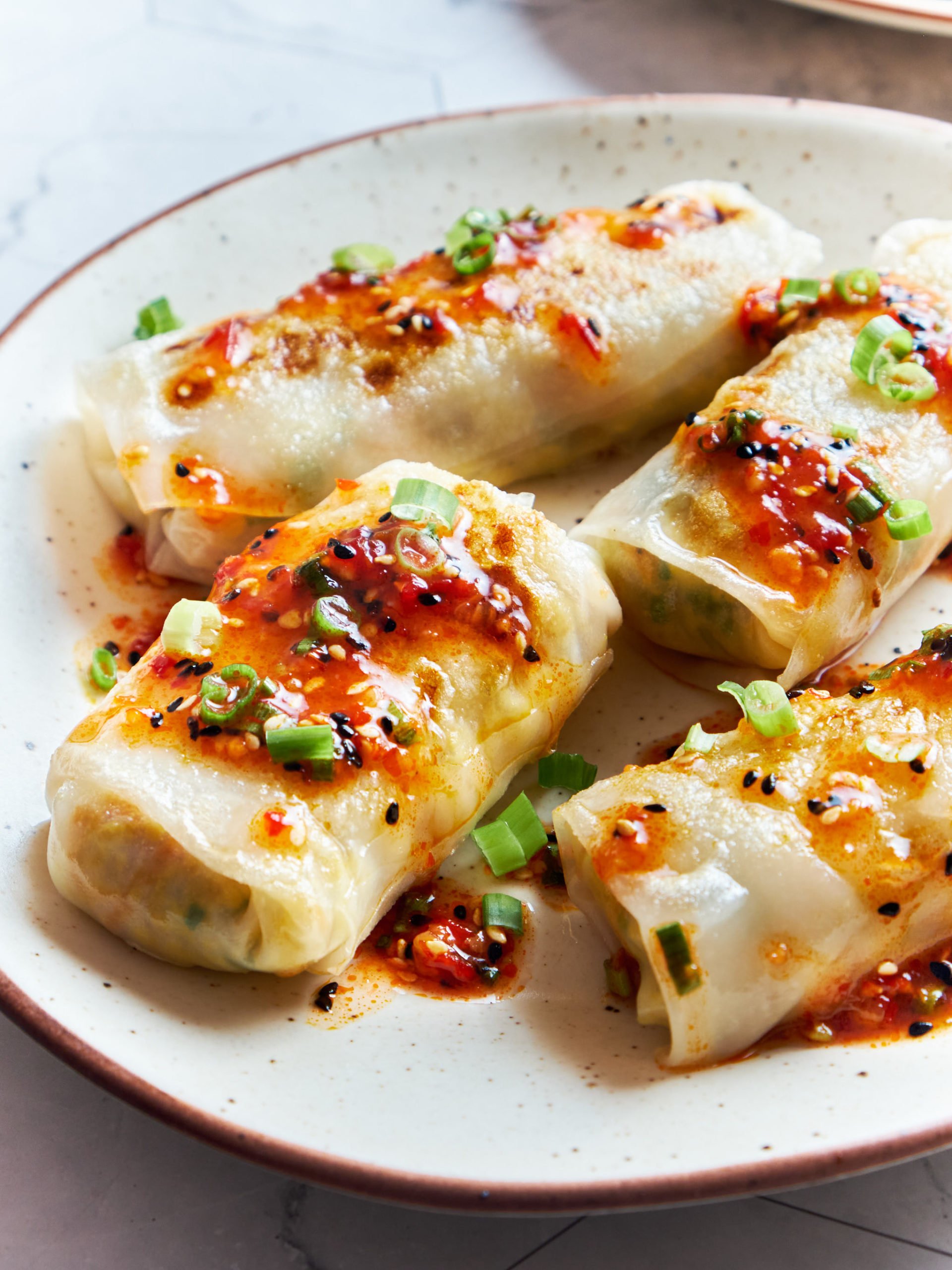 Rice Paper Tofu Dumplings
Hi friends. I recently stumbled upon this cool 'hack' video on TikTok where someone was making all sorts of dumplings using rice paper.
Making homemade dumpling wrappers is a bit of a pain (and ready-made wrappers are not available where I live), so I tried this why-did-I-never-think-of-this trick.
And it worked beautifully! The filling is made with a juicy & spiced mixture of tofu-carrot-onion and the dumplings themselves have a nice crispy layer. I paired them up with chili garlic Asian sauce and it was BEYOND delicious!
If you're in a pinch and don't have any dumpling wrappers on hand, give this rice paper hack a try. It's a great way to enjoy homemade dumplings without the extra hassle.
Let's go!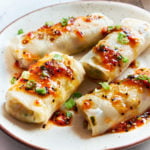 Print
Rice Paper Tofu Dumplings
Easy and delicious Rice Paper Tofu Dumplings recipe
Pin Recipe
Recipe Video
Ingredients
Instructions
Step 1 : Prepare tofu filling
Set a pan over medium heat. Add olive oil. Once it's hot, add ginger + garlic + chili and stir-saute for 2 minutes.

Add the crumbled tofu + turmeric powder and stir-saute for 3 minutes, or until much of the water evaporates.

Now add carrot + onion + salt + pepper + soy sauce. Stir and cook for 4-5 minutes.

Next, add freshly chopped green onion + cilantro and give everything a quick mix. Tofu filling is ready. Turn off the heat and set aside.
Step 2 : Prepare rice paper
In a large bowl (that isn't shallow), add around 3 cups of water. Dip 1 piece of rice paper for 5-6 seconds and immediately remove it from the water. Make sure it doesn't stick to itself. 

Transfer the paper to a chopping board. Repeat the same for the other rice paper and stack it on top of the earlier one. Gently press them together and remove air pockets, if any.

Add 2 heaped tablespoons of tofu filling just below the center of the rice paper.

Carefully roll the paper - folding the sides as you roll your way up to the top (see recipe video for reference).

Repeat the same for the rest of the paper. This recipe makes around 24 dumplings.
Step 3 : Saute the dumplings
Set a non-stick pan over medium heat. Drizzle olive oil all over the pan.

Place the dumplings to the pan (I could comfortably fit 4 dumplings at once) and saute for 2-3 minutes, or until they're crispy and golden-brown. Flip and saute the other side.

Repeat the same for the remaining dumplings. Dumplings are now ready!
Step 4 : Prepare the dumpling sauce
In a small mixing bowl, add sweet chili garlic sauce + chili oil + rice vinegar + toasted sesame + green onion. Mix well. Dumpling sauce, done!
Step 5 : Serve
Now that we've prepared everything, it's time to serve. Drizzle the dumpling sauce over the dumplings and garnish with **some more** freshly chopped green onion.
Notes
If 24 dumplings are too many, simply half the tofu filling ingredients. 
The tofu filling is super delicious - you can enjoy it with toasted bread.
Schezwan sauce is a great alternative to the sauce I made here. If you're in a pinch, use ketchup. 😉 
Nutrition
Serving:
1
dumpling
|
Calories:
102
kcal
|
Carbohydrates:
24
g
|
Protein:
6
g
|
Fat:
3
g
|
Saturated Fat:
1
g
|
Polyunsaturated Fat:
1
g
|
Monounsaturated Fat:
2
g
|
Sodium:
354
mg
|
Potassium:
67
mg
|
Fiber:
2
g
|
Sugar:
3
g
|
Vitamin A:
1385
IU
|
Vitamin C:
5
mg
|
Calcium:
47
mg
|
Iron:
2
mg
If you liked this Rice Paper Tofu Dumplings recipe, check out this delicious Vegan Summer Rolls recipe I posted earlier.
If you like to support me and my work, check out my Indian Vegan, Air Fryer Vegan, and all my upcoming cookbooks where I teach you how to make hundreds of delicious plant-based recipes.
Thank you for stopping by!
Keywords: Rice Paper Tofu Dumplings recipe, rice paper dumplings, homemade dumpling wrappers, easy dumpling recipe, vegan dumplings, Asian dumplings, carrot and tofu filling, spiced and crispy, chili garlic sauce, TikTok hack, dumpling recipes using rice paper, tofu and carrot momo, quick and easy