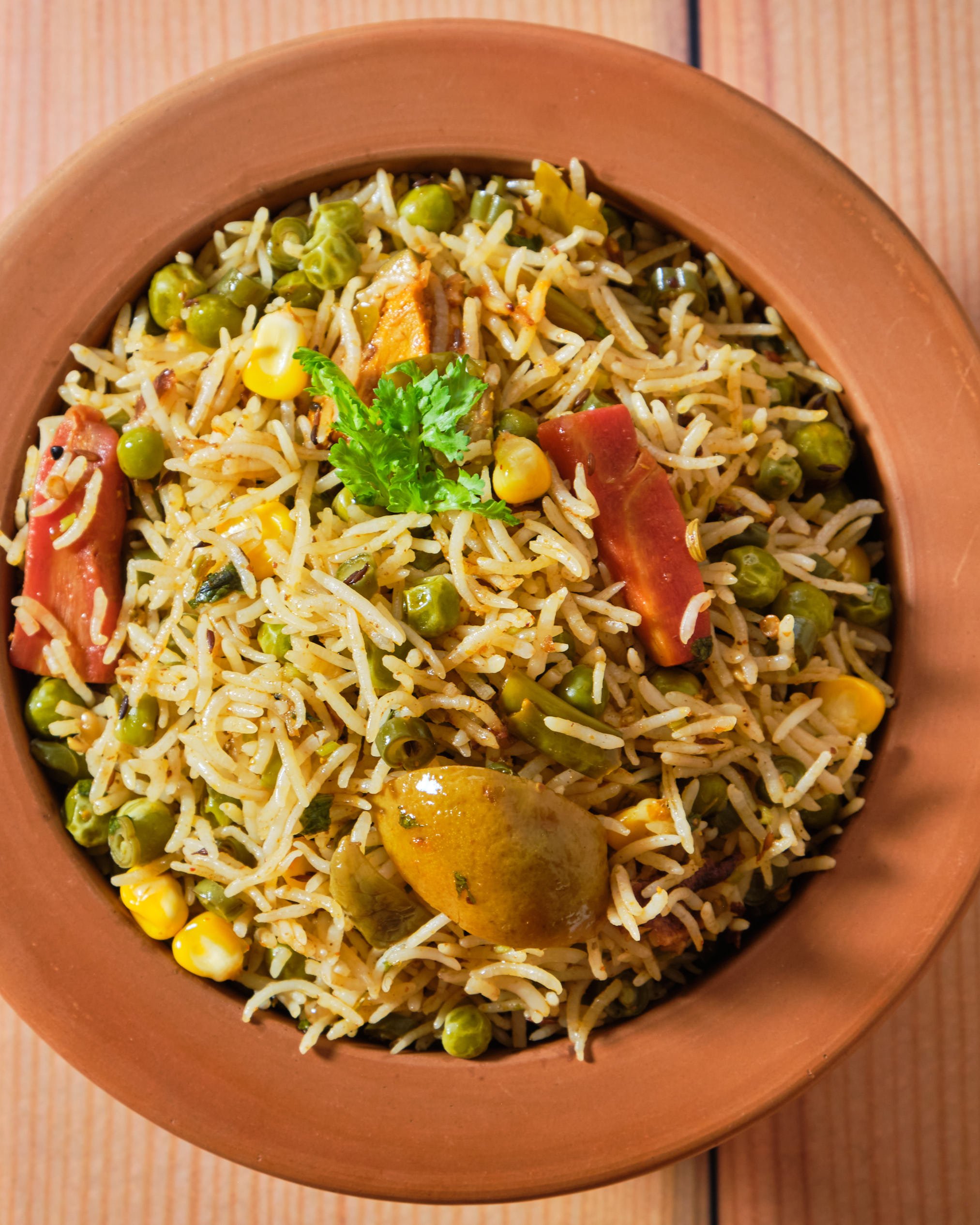 One-Pot Achari Rice
Achari Rice is a delicious Indian dish that gives regular rice a delicious makeover.
It combines fragrant basmati rice with spices, veggies like sweet corn and green peas, and the star of the show, mixed pickle (achar).
You can buy mixed pickle (achar) at most Indian grocery stores or online retailers specializing in Indian cuisine ingredients.
This dish is all about bold flavors with a hint of tanginess, making it a delightful addition to your meal.
Let's go!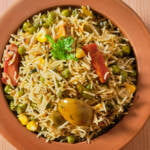 Print
One-Pot Achari Rice
Pin Recipe
Recipe Video
Instructions
Wash and rinse the basmati rice until the water runs clear.

Transfer the rice to a large bowl and add 2.5 cups of hot water. Let it soak while you prepare the vegetables.

Heat the olive oil in a large sauté pan over medium heat.

Add the cumin seeds and let them sizzle for 5-8 seconds.

Stir in the sweet corn, green peas, and chopped green beans. Cook for 2-3 minutes until they begin to soften.

Add the mixed pickle (achar) to the pan and stir well to combine with the vegetables. Cook for an additional 2 minutes.

Sprinkle in the salt and add the soaked rice along with its water. Give it a gentle stir to combine.

Bring the mixture to a boil.

Once it reaches a boil, cover the sauté pan with a lid.

Reduce the heat to medium and let the rice simmer for 15 minutes.

Turn off the heat and uncover the pan.

Sprinkle freshly chopped cilantro on top of the rice.

Cover the pan again and let it rest for 8 to 10 minutes.

Gently fluff the achari rice with a fork to mix the flavors.

Serve the flavorful achari rice hot and enjoy it with vegan raita or your favorite side dish.
Notes
The nutrition information does not contain the macros from mixed pickle (different brands have different values). 
Nutrition
Calories:
600
kcal
|
Carbohydrates:
95
g
|
Protein:
12
g
|
Fat:
20
g
|
Saturated Fat:
3
g
|
Polyunsaturated Fat:
3
g
|
Monounsaturated Fat:
14
g
|
Sodium:
215
mg
|
Potassium:
432
mg
|
Fiber:
6
g
|
Sugar:
6
g
|
Vitamin A:
770
IU
|
Vitamin C:
27
mg
|
Calcium:
69
mg
|
Iron:
3
mg
If you enjoyed this One-Pot Achari Rice, check out this delicious Indian Pav Bhaji recipe I posted earlier.
If you like to support me and my work, check out my Indian Vegan, Air Fryer Vegan, and all my upcoming cookbooks where I teach you how to make hundreds of delicious plant-based recipes.
Thank you for stopping by!
Keywords: indian recipe, indian vegan recipe, rice, rice-based dishes, lunch, dinner, basmati rice, cooking, achar, pickle, one-pot dinner recipe ideas