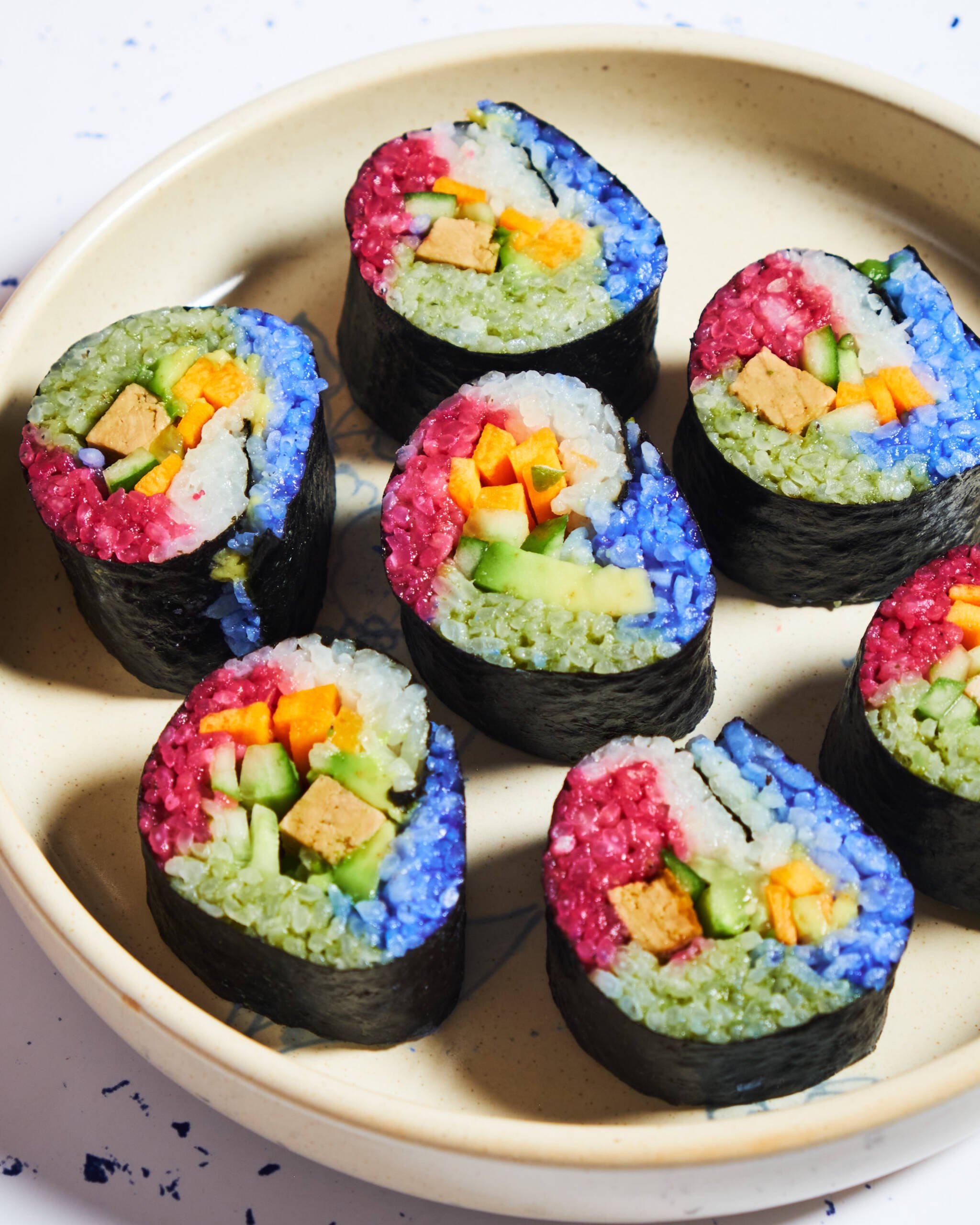 Rainbow Sushi Vegan Recipe
Hi friends! My experimental Rainbow Sushi turned out DELICIOUS so I'm very excited to share it with you.
Rainbow sushi is a colorful and delicious twist on traditional sushi. I dyed plain sushi rice with natural food coloring (beetroot, matcha, spirulina) to create a spectrum of vibrant hues.
I used cucumber, carrot, fried tofu, and avocado to make the filling. You can experiment with all you want to make your own version.
Rainbow sushi is a feast for the eyes and the taste buds. It is perfect for parties and gatherings, or for a fun and unique sushi night at home.
Let's go! 🙂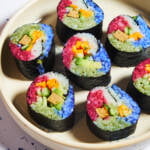 Print
Rainbow Sushi
Pin Recipe
Ingredients
Instructions
Step A: Cook the sushi rice
Rinse the sushi rice under cold water until the water runs clear. This step is essential to remove excess starch.

In a medium saucepan, combine the rinsed rice and 3.5 cups of water. Bring to a boil, then reduce the heat to low, cover, and simmer for 15-20 minutes or until the rice is cooked and the water is absorbed.

In a small bowl, mix the rice vinegar, sugar, and salt until dissolved. When the rice is done, transfer it to a large mixing bowl and drizzle the vinegar mixture over it. Mix gently to combine. Allow the rice to cool to room temperature.
Step B: Prepare the rainbow colors
In 3 separate small bowls, add beetroot powder, matcha powder, and blue spirulina powder. Add 1.5 to 2 tablespoons of water to each bowl. Mix well until the powders are completely dissolved.
Step C: Color the rice
Divide the cooked sushi rice into four equal portions.

Leave one portion white and add each colored mixture to the other three portions. Mix each portion thoroughly until the rice is evenly colored.
Step D: Assemble the rolls
Lay a bamboo sushi rolling mat on a clean surface. Place a sheet of nori on the mat, with the shiny side facing down.

Wet your hands to prevent sticking and take a small portion of each colored rice. Place them in horizontal stripes across the nori sheet (start from the bottom; gently press and even out the surface leaving about an inch of nori at the top free).

Add your desired fillings, such as carrot ribbons, cucumber ribbons, fried tofu strips, and avocado, on top of the rice.

Carefully lift the bamboo mat with the nori, and start rolling the sushi away from you, applying gentle pressure as you go. Seal the roll by moistening the edge of the nori with a little water.

Repeat the process with the remaining ingredients.
Step E: Slice and serve
Use a sharp, damp knife to slice the sushi rolls into bite-sized pieces.

Serve the rainbow sushi rolls with soy sauce, pickled ginger, and wasabi (if desired). Enjoy!
Notes
You can get creative with your fillings, using other vegetables, fruits, or plant-based proteins that you enjoy.
The nutrition information is not complete and does not consider the tofu and other fillings.
Nutrition
Calories:
224
kcal
|
Carbohydrates:
42
g
|
Protein:
4
g
|
Fat:
4
g
|
Saturated Fat:
1
g
|
Polyunsaturated Fat:
1
g
|
Monounsaturated Fat:
3
g
|
Sodium:
452
mg
|
Potassium:
233
mg
|
Fiber:
3
g
|
Sugar:
2
g
|
Vitamin A:
1363
IU
|
Vitamin C:
4
mg
|
Calcium:
19
mg
|
Iron:
1
mg
If you enjoyed this Rainbow Sushi recipe, check out this delicious Creamy Miso Mushroom Pasta recipe I posted earlier.
If you like to support me and my work, check out my Indian Vegan, Air Fryer Vegan, and all my upcoming cookbooks where I teach you how to make hundreds of delicious plant-based recipes.
Thank you for stopping by!
Keywords: Japanese, sushi, recipe, plant-based, cooking, japanese vegan recipes, rainbow rice, vegan asian food, lunch and dinner ideas