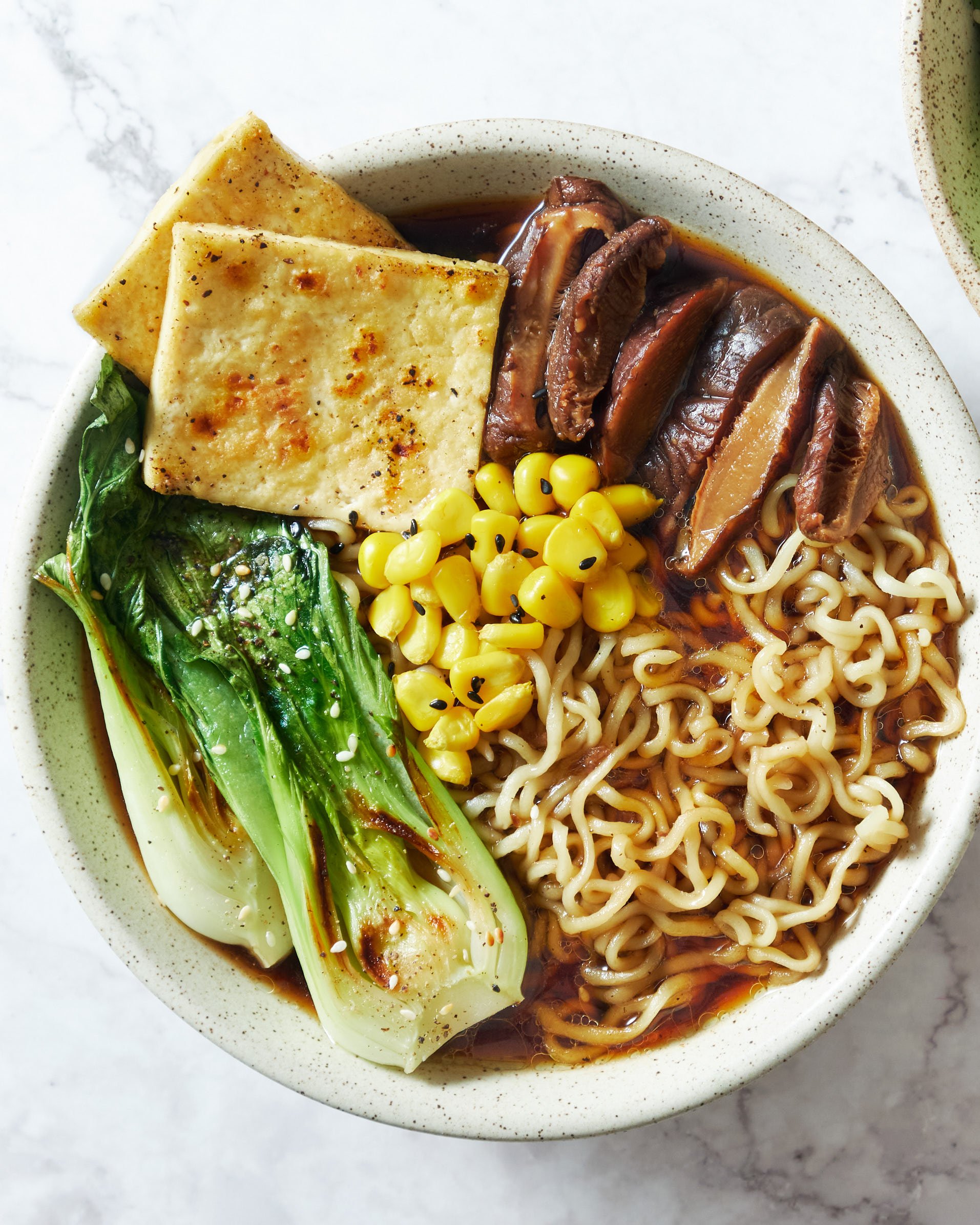 Vegan Shoyu Ramen
Hi friends! I'm excited to share with you this delicious and hearty bowl of vegan ramen.
This recipe is perfect for a comforting and filling meal, and it's packed with flavors and textures that will keep you coming back for more.
The star of this dish is the umami-packed shoyu broth, which is made with soy sauce, kombu, shiitake mushrooms, and other flavorful ingredients. The broth is paired with pan-fried tofu, sweet corn, and crunchy bok choy, which add a perfect balance of sweetness, texture, and nutrients.
The preparation process is straightforward and well-organized. While the shoyu soup is simmering, you can pan-fry the tofu and bok choy, and boil the ramen noodles + sweet corn. This way you'll have everything ready at the same time, making it an easy and enjoyable cooking experience.
I hope you'll give this recipe a try and enjoy it as much as I did.
Let's go!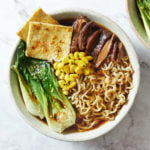 Print
Vegan Shoyu Ramen
Simple and delicious vegan shoyu ramen recipe.
Pin Recipe
Recipe Video
Ingredients
To prepare pan-fried tofu & bok choy,
Bok choy

(sliced in half)

Salt & pepper
Instructions
Step A : Prepare Shoyu soup
Set a large pot over low-medium heat. Add sesame oil.

Once it's hot, add ginger + onion + garlic. Stir-saute for 2-3 minutes, or until the onion is translucent.

Add water + kombu + shiitake mushrooms + soy sauce + rice vinegar + white vinegar + salt + pepper + sugar.

Mix well and bring it to a simmer. Once it starts simmering, cover the pot and continue to simmer over low-medium heat for 30 minutes. In the meantime, let's prepare the other ingredients.
Step B : Prepare pan-fried tofu + bok choy + corn + noodles
Set a non-stick pan over medium heat.

Brush it with a bit of olive oil. Evenly sprinkle salt and pepper on the surface.

Place tofu slices on top and let it fry for 2-3 minutes, or until golden. Flip and fry the other side. Remove from the pan and set aside.

Again brush your pan with a bit of olive oil. Place the bok choy (sliced part facing down) and let it fry for 3-4 minutes, or until the leaves are wilted and start to brown. Flip and sprinkle salt and pepper on top. Let it fry for 40-50 seconds.

Turn off the heat and set aside.
Step C : Prepare noodles + corn
Boil ramen noodles according to package instructions. Once cooked, drain and set aside.

Boil sweet corn. Drain and set aside.
Step D : Slice the mushrooms
By now, the simmering soup should be ready. Using a strainer, remove the non-liquid ingredients. Do not turn off the heat of the pot. Reduce it to low and cover with a lid.

Separate the mushrooms and cut them into slices. Discard the rest.
Step E : Assemble
Transfer the cooked noodles to a bowl and assemble bok choy + tofu + mushrooms + sweet corn. Pour in the hot soup and garnish with toasted sesame seeds.

That's it! Enjoy your hot and flavorful bowl of vegan shoyu ramen. 🙂
Nutrition
Calories:
772
kcal
|
Carbohydrates:
105
g
|
Protein:
39
g
|
Fat:
29
g
|
Saturated Fat:
9
g
|
Sodium:
3240
mg
|
Potassium:
4557
mg
|
Fiber:
21
g
|
Sugar:
25
g
|
Vitamin A:
75144
IU
|
Vitamin C:
761
mg
|
Calcium:
1863
mg
|
Iron:
18
mg
If you liked this Vegan Shoyu Ramen recipe, check out these delicious Spicy Peanut Sauce Noodles I posted earlier.
If you like to support me and my work, check out my Indian Vegan, Air Fryer Vegan, and all my upcoming cookbooks where I teach you how to make hundreds of delicious plant-based recipes.
Thank you for stopping by!
Keywords: Vegan, Shoyu, Ramen, Umami, Soup, Tofu, Bok choy, Shiitake mushroom, Kombu, Japanese cooking, Protein-rich, Comfort food, Meatless Monday, Hearty, Wholesome, Easy recipe, Pan-fried, Sweet corn, Garlic, Ginger, vegan japanese recipes, vegan ramen