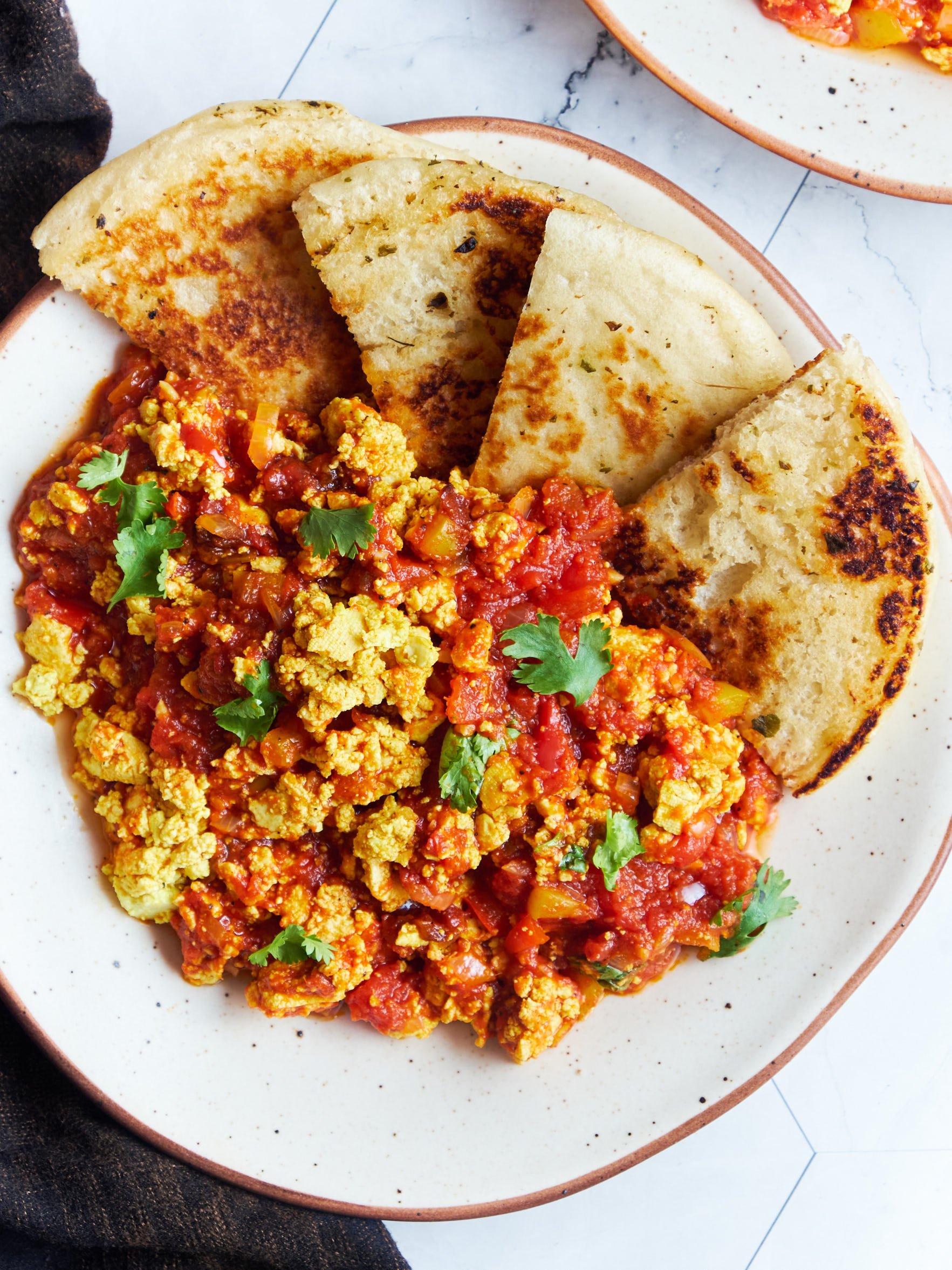 Vegan Shakshuka
Hi friends! My humble attempt at veganizing this classic Vegan Shakshuka turned out delicious, and I'm excited to share the recipe with you all.
Shakshuka is a popular Middle Eastern and North African dish that (traditionally) consists of eggs poached in a flavorful tomato sauce. It is typically served with bread or pita on the side, and is often enjoyed for breakfast or as a light meal. The tomato sauce is made by simmering diced or crushed tomatoes with spices such as cumin, paprika, and cayenne pepper, and is often flavored with onions, garlic, and bell peppers.
I replaced eggs with crumbled (and sauteed) tofu and it worked beautifully. To balance out the tanginess of tomatoes, I added a bit of sugar. It's so easy to prepare and makes an awesome vegan breakfast.
Let's go!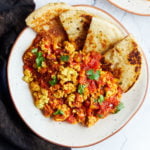 Print
Vegan Shakshuka
Simple and delicious Vegan Shakshuka recipe by Veganbell.
Pin Recipe
Recipe Video
Ingredients
To prepare tomato sauce mix,
Instructions
Step A : Prepare tofu 'egg'
Set a pan over medium heat. Add olive oil + crumbled tofu + salt + black salt + pepper + turmeric powder.

Stir-saute for 3-4 minutes, or until the tofu is fragrant.

Transfer to a bowl and set aside.
Step B : Prepare tomato sauce mix
Clean the pan and set it over medium heat. Add olive oil + garlic + onion + bell peppers. Stir-saute for 4 minutes, or until the onions become translucent.

Next, add tomato paste + smoked paprika + cayenne pepper + cumin powder + coconut sugar + salt + pepper.

Mix well and stir-saute for 1 minute.

Now add the whole peeled tomatoes. Using a spatula, break down the tomatoes into smaller chunks. Mix well.

Cover the pan and cook for 15 minutes over medium heat.

*After 15 mintues* Uncover the pan and gently add the sauteed tofu. Put the lid back on and cook for 5 minutes over medium heat.

Vegan shakshuka is now ready. Garnish with freshly chopped cilantro and serve with toasted bread (I served mine with Kulcha bread).
Notes
You can also serve Vegan Shakshuka with pasta. Simply add the tomato sauce over the cooked pasta. 
Nutrition
Calories:
294
kcal
|
Carbohydrates:
23
g
|
Protein:
12
g
|
Fat:
19
g
|
Saturated Fat:
3
g
|
Polyunsaturated Fat:
4
g
|
Monounsaturated Fat:
12
g
|
Sodium:
875
mg
|
Potassium:
774
mg
|
Fiber:
6
g
|
Sugar:
12
g
|
Vitamin A:
1574
IU
|
Vitamin C:
63
mg
|
Calcium:
230
mg
|
Iron:
5
mg
If you liked this Vegan Shakshuka recipe, check out this delicious Wholesome Dal Chawal I posted earlier.
If you like to support me and my work, check out my Indian Vegan, Air Fryer Vegan, and all my upcoming cookbooks where I teach you how to make hundreds of delicious plant-based recipes.
Thank you for stopping by!
Keywords: Vegan, plant-based, shakshuka, tomato sauce, poached eggs, Middle Eastern, North African, breakfast, brunch, light meal, cumin, paprika, cayenne pepper, onions, garlic, bell peppers, versatile, customizable, leftover vegetables, plant protein, tofu, tofu recipes