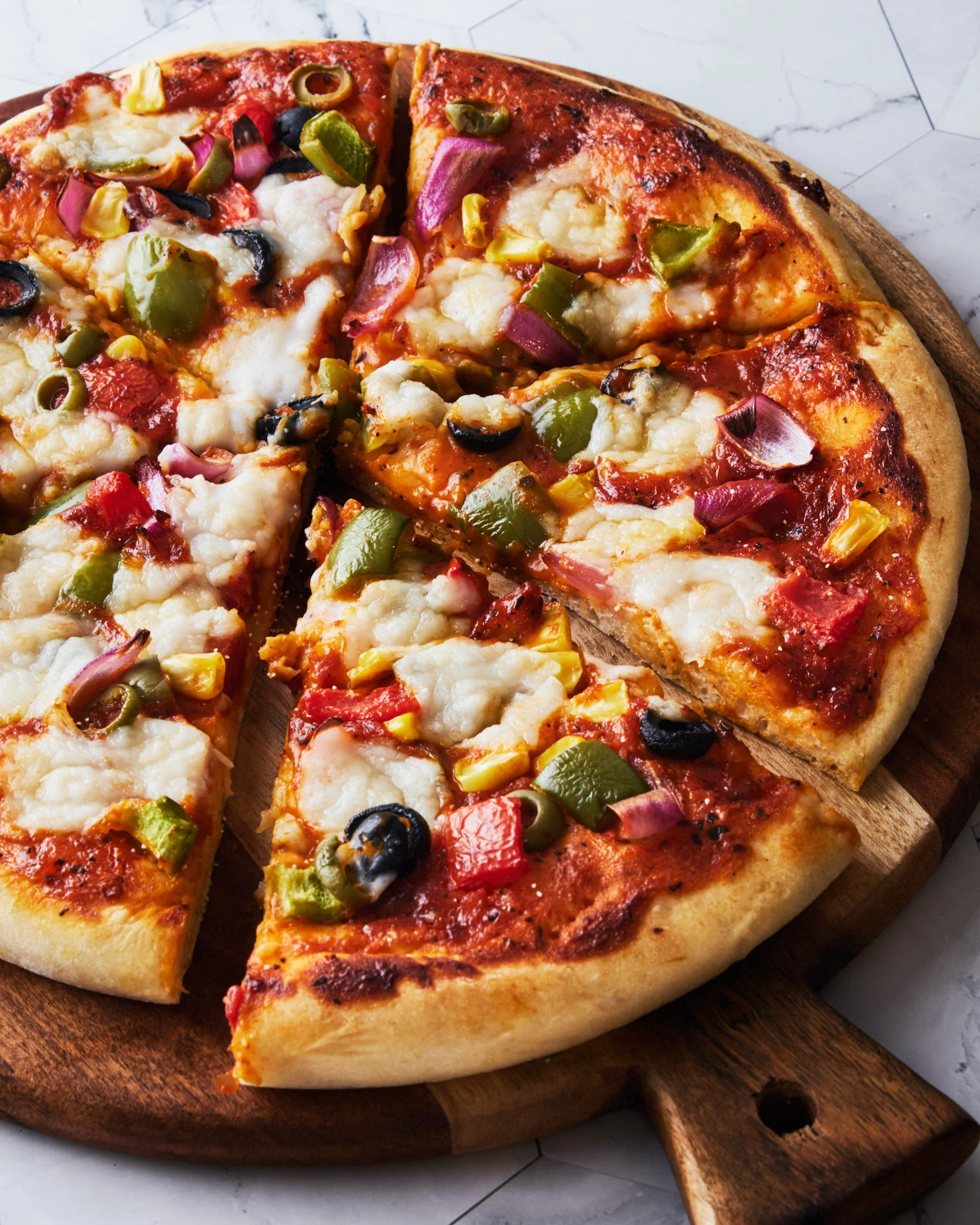 Vegan Pizza Recipe
As soon as we got our hands on this new vegan mozzarella cheese (from a local vendor), we made a vegan pizza…and it was awesome.
Preparing the pizza dough is probably the most fun (or the least fun – depends on who you're asking) in making the pizza.
You can of course use a store-bought pizza base and start from there.
Let's go!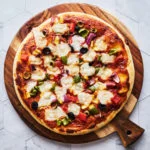 Print
Vegan Pizza
Delicious homemade vegan pizza recipe by Veganbell.
Pin Recipe
Recipe Video
Ingredients
1

cup

warm water

2

teaspoons

sugar

1.5

teaspoon

instant yeast

2

cups

00 flour

(aka double zero flour)

1/2

teaspoon

salt

2

tablespoons

extra virgin olive oil

2

tablespoons

semolina flour

1

cup

Pizza sauce

(1/2 cup for each pizza)

1

Onion

cut into petals

1

Bell pepper

cut into chunks

1

Tomatoes

cut into chunks

1/2

cup

Corn

steamed

1/4

cup

Olives

Vegan mozzarella cheese

(or powdered vegan parmesan)
Instructions
Step A : Activate the yeast
In a large mixing bowl, pour the warm water along with sugar and instant yeast. Mix well and leave it for about 15 minutes, or until it starts to foam up.
Step B : Mix in the flour and let it rise
Next, add the 00 flour + salt, and start mixing using your hands. The mixture will be sticky at first, but will start to come together as you knead. I usually knead it in the mixing bowl.

Once the dough is done, make a smooth surface on top by tucking it in its sides (as shown in the video).

Add the oil and coat it all over the dough and the bowl.

Cover the bowl and let it rest for 2-3 hours in a warm place. Depending on the quality of the yeast and the nature of flour (I do recommend using 00 flour), the dough will double, or even triple its size.
Step C : Knead some more
*After 2-3 hours* Sprinkle a bit of flour on the counter. Place the dough and start kneading for 3-4 minutes. You'll notice it's much easier to knead this dough.

Now divide the dough into 2 equal halves (as we'll be making 2 pizzas). Tuck them like you did before and cover them with bowls. Let them rest for 15 minutes.
Step D : Prepare the pizza base
*After 15 minutes* The doughs with puff even more. Let's work on 1 dough first.

Remove the bowl. With the help of your knuckles, gently press the dough in the middle and work it up on the sides. You can also use a rolling pin to do this, but I prefer to use my hands.

Once the dough is flat (make sure it's neither to thick nor too thin), sprinkle your baking tray with semolina flour. Semolina prevents the pizza from sticking to the tray while baking.
Step E : Add sauce and toppings
Transfer the dough to the tray. Adjust its sides and pour pizza sauce over it. Evenly coat the dough with the sauce.

Top it with your fav veggie toppings + vegan mozzarella.
Step F : Bake
I baked mine in a microwave oven which took 25 minutes at 180 C (350 F). If you have a convection oven, it should take around 10 minutes, or until the crust is golden.

That's it, vegan pizza is ready. Serve hot. Repeat the same for the other dough.
Notes
While activating the yeast, if the yeast solution does not foam up at all, you might have to try again with a new, freshly-bought yeast. The first time I tried making a pizza, I ran into this problem. Even if foams just a little bit, it's good...and you can proceed with the recipe.
Nutrition
Serving:
1
pizza
|
Calories:
819
kcal
|
Carbohydrates:
140
g
|
Protein:
23
g
|
Fat:
20
g
|
Saturated Fat:
3
g
|
Sodium:
1507
mg
|
Potassium:
1088
mg
|
Fiber:
13
g
|
Sugar:
18
g
|
Vitamin A:
3073
IU
|
Vitamin C:
99
mg
|
Calcium:
62
mg
|
Iron:
9
mg