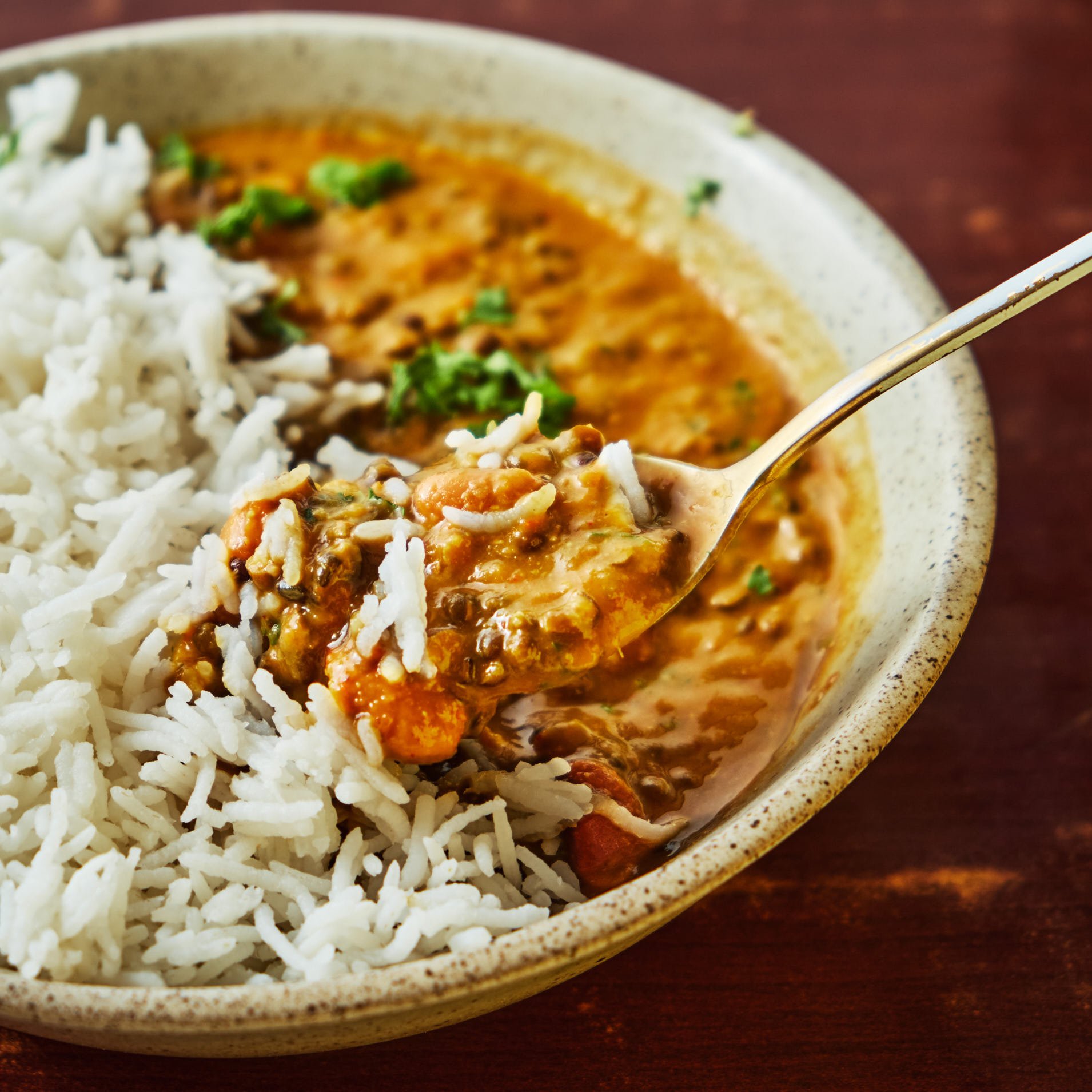 Vegan Dal Makhani
Dal Makhani is a staple dish in Indian cuisine, typically served alongside rice, roti, naan, or pulao. The dish is made with a combination of whole urad beans and kidney beans, which are soaked for at least 12 hours before being pressure-cooked with a variety of aromatic spices.
This vegan version of Dal Makhani is a delicious and healthy alternative to the traditional recipe. It is packed with protein and flavor, and is sure to be a hit with vegans and non-vegans alike. Plus, it's easy to make and can be enjoyed as a wholesome meal any day of the week.
Let's go!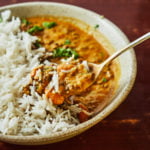 Print
Vegan Dal Makhani
Delicious vegan dal makhani recipe by Veganbell
Pin Recipe
Recipe Video
Ingredients
To garnish,
1/4

cup

freshly chopped cilantro
Instructions
Step A : Soak the lentils
Rinse urad beans + kidney beans. Transfer to a large bowl and add 4 cups of water. Soak overnight.
Step B : Pressure-cook
Drain the soaked lentils and transfer them to your pressure cooker.

Add cloves + green cardamoms + black cardamom + cinnamon stick + bay leaf + salt + 3 cups of water.

For electric pressure cooker - Secure the lid, seal the knob, press MANUAL (or PRESSURE COOK) and set the timer to 25 min on HIGH PRESSURE. Let the pressure release naturally for 10-15 min.For stovetop pressure cooker - Secure the lid, seal the valve, turn the heat up to high and when the cooker indicates it has reached high pressure, lower the heat to maintain it and begin counting 25 min pressure cooking time. Turn off the heat and allow the pressure to release naturally for 10-15 minutes.For jiggle-top pressure cooker - Secure the lid, put the whistle on, and cook over medium heat for 7-8 whistles. Note: As some of the liquid escapes from the jiggle-top cooker, you can add an additional ½ cup water prior to cooking. Turn off the heat and allow the pressure to release naturally for 10-15 minutes.

Open the lid and check the kidney beans for doneness. If they're not super soft and mushy, cook for 5 more minutes using the same heat settings. NOTE:  For a creamier consistency, mash ¼ portion of the dal or blend them.

Transfer everything to a large bowl and give your pressure cooker a quick rinse.
Step C : Temper the masalas
In a blender, add onion + garlic + ginger + 2 tablespoons water. Blend to make a paste. Set aside.

Set your electric pressure cooker to SAUTE (or set your stovetop / jiggletop pressure cooker over medium heat).

Add oil. Once it's hot, add onion-garlic-ginger paste. Stir and sauté for 8-9 minutes, or until the paste turns brownish.

Next, add blended tomatoes + turmeric powder + Kashmiri red chili powder + cumin powder + coriander powder + salt.

Mix well and cook for 12-15 minutes, or until most of the liquid evaporates and the oil separates from the mixture. Stir frequently.
Step D : Mix the cooked lentils with tempered masala
Stir in the cooked dal + 1 cup water and bring it to a boil. For a thicker consistency, let it simmer for 5-6 min. 

Turn off the heat. Add coconut cream + freshly chopped cilantro. Give it a gentle stir.

Dal makhani is ready. Serve hot with rice, roti, naan, or pulao. 
Nutrition
Calories:
375
kcal
|
Carbohydrates:
54
g
|
Protein:
21
g
|
Fat:
22
g
|
Saturated Fat:
16
g
|
Sodium:
872
mg
|
Potassium:
614
mg
|
Fiber:
18
g
|
Sugar:
6
g
|
Vitamin A:
714
IU
|
Vitamin C:
17
mg
|
Calcium:
116
mg
|
Iron:
9
mg
If you enjoyed this Vegan Dal Makhani recipe, check out this delicious Vegan Palak Paneer recipe I posted earlier.
If you like to support me and my work, check out my Indian Vegan, Air Fryer Vegan, and all my upcoming cookbooks where I teach you how to make hundreds of delicious plant-based recipes.
Thank you for stopping by!
Keywords: Vegan Dal Makhani, Plant-based lentil dish, Indian cuisine, Whole urad beans, Kidney beans, Aromatic spices, Vegan cream, Vegan butter, Ghee replacement, Healthier option, Wholesome meal, Indian restaurant menu, Protein-packed, Easy to make, Flavorful, Suitable for vegans, Reduce animal products, Traditional recipe alternative, Served with rice, roti, naan, or pulao, Simple and straightforward instructions, pressure-cooked, instant pot