Chocolate Chia Pudding
If you're in the mood for a quick and easy vegan breakfast or dessert, this chocolate chia pudding recipe is just what you need. Made with just 5 simple ingredients, this pudding comes together in just 20 minutes and can be served right away or chilled in the fridge overnight for best results.
To make this chocolate chia pudding, simply mix together chia seeds, cocoa powder, sweetener of your choice, and non-dairy milk in a bowl. Let the mixture sit for a few minutes to allow the chia seeds to absorb the liquid and become thick and gelatinous. Then, transfer the pudding to a jar or serving dish and chill in the fridge for at least an hour or overnight.
I like to top my chocolate chia pudding with coconut yogurt and shaved chocolate to make it extra rich and decadent. You can also add in other toppings like fresh fruit, nuts, or coconut flakes if you like. Give it a try and let me know what you think!
Let's go!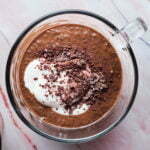 Print
Vegan Chocolate Chia Pudding Recipe
Super rich and delicious vegan chocolate chia pudding recipe.
Pin Recipe
Recipe Video
Instructions
In a mixing bowl, add chia seeds + peanut butter + cocoa powder + coconut sugar + salt + oat milk.

Using a whisker, mix well until smooth. Cover and let it rest for 20 minutes, or chill it in the fridge overnight (tastes best when chilled).

Transfer to serving bowls. Top it off with coconut yogurt + shaved chocolate. Enjoy!
Notes
Strawberries, papayas, and bananas make great toppings to this pudding. Feel free to experiment with your fav fruits. 🙂 
Nutritional chart does not contain macros from the toppings.
Nutrition
Calories:
330
kcal
|
Carbohydrates:
41
g
|
Protein:
11
g
|
Fat:
17
g
|
Saturated Fat:
3
g
|
Polyunsaturated Fat:
7
g
|
Monounsaturated Fat:
5
g
|
Trans Fat:
1
g
|
Sodium:
173
mg
|
Potassium:
340
mg
|
Fiber:
11
g
|
Sugar:
21
g
|
Vitamin A:
319
IU
|
Vitamin C:
1
mg
|
Calcium:
363
mg
|
Iron:
4
mg
If you liked this recipe, check out this delicious Vegan Chocolate Quinoa Porridge I posted earlier.
If you like to support me and my work, check out my Indian Vegan Cookbook (and all my upcoming cookbooks) on Qookbooks.com, where I teach you how to make 64 delicious Indian plant-based recipes ranging from rice, dals, curries, breads, desserts, and more!
Thanks for stopping by! 🙂
Keywords: Chocolate chia pudding, Vegan chocolate pudding, Chia seeds, Cocoa powder, Coconut yogurt topping, Shaved chocolate, vegan dessert, plant-based, breakfast, gluten-free