Vegan Butter Chicken
Vegan Butter Chicken is a delicious and healthy alternative to traditional butter chicken that uses seitan as the main ingredient.
Seitan, also known as wheat gluten, is a versatile and nutritious meat substitute that is high in protein and low in fat. It's the perfect base for creating a vegan version of this classic Indian dish.
The key to making a great vegan butter chicken is to knead the seitan well. This step may take a bit of time, but it's essential to achieving the right texture for the dish.
A well-kneaded seitan will give your dish a chicken-like texture that is perfect for mimicking the flavors of traditional butter chicken.
Let's go!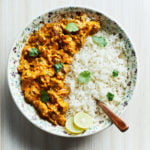 Print
Vegan Butter Chicken
Flavorful and delicious vegan butter chicken recipe by Veganbell.
Pin Recipe
Recipe Video
Instructions
Preparing the seitan 'chicken' pieces,
In a large mixing bowl, add wheat gluten + nutritional yeast + garlic powder + onion powder + smoked paprika + salt + pepper + BBQ seasoning mix.

Stir and mix well. Then add soy sauce + warm water. With the help of a spatula, combine the dry + wet ingredients.

As it starts to form a dough, switch over to your hands and knead well. Kneading is really important (I knead them for like 7-10 minutes). A well-kneaded seitan is meaty and elastic.

Tear the seitan into smaller chunks (around 1-inch pieces) and set aside. 

Heat a saucepan and add 4 cups veggie broth. Bring it to a simmer. Now add the seitan chunks and gently simmer for 8-10 minutes.

Turn off the heat. Remove and drain the pieces.

Heat a pan over medium heat. Add 1 tablespoon oil. Once it's hot, add the seitan pieces and saute for 4-5 minutes or until it starts to brown. Transfer to a bowl and set aside.
Preparing the gravy,
Heat the same pan over medium heat. Add 1 tablespoon oil. Once it's hot, add bay leaf + cinnamon stick + clove + cardamom. Stir and saute for 2 minutes or until fragrant.

Add garlic + ginger + onion. Stir and saute for 3-4 minutes or until the onions turn golden brown.

Add tomato puree + turmeric powder + coriander powder + cumin powder + salt. Mix well, cover the lid, and cook for 8-10 minutes over low heat (stir occasionally).

Open the lid, add 1 cup water and mix well. Add the browned seitan pieces and mix some more. Cover the lid and cook for 5 minutes over low-medium heat.

Turn off the heat. Add coconut cream + freshly chopped cilantro and give it a gentle stir. Vegan butter chicken is ready. Serve over rice, roti, or naan.
Notes
Nutrition chart is for reference. Nutrition from rice isn't included.
Nutrition
Calories:
395
kcal
|
Carbohydrates:
30
g
|
Protein:
16
g
|
Fat:
26
g
|
Saturated Fat:
11
g
|
Sodium:
360
mg
|
Potassium:
753
mg
|
Fiber:
8
g
|
Sugar:
8
g
|
Vitamin A:
715
IU
|
Vitamin C:
19
mg
|
Calcium:
77
mg
|
Iron:
4.2
mg
If you enjoyed this Vegan Butter Chicken recipe, check out this delicious Vegan Palak Paneer recipe I posted earlier.
If you like to support me and my work, check out my Indian Vegan, Air Fryer Vegan, and all my upcoming cookbooks where I teach you how to make hundreds of delicious plant-based recipes.
Thank you for stopping by!
Keywords: vegan chicken, butter chicken, seitan, Indian flavors, kneading seitan, meat substitute, protein-rich, vegetarian recipe, dairy-free, gluten-free, nutritional yeast, garam masala, cumin, coriander, turmeric, smoked paprika, cashew cream, cilantro, Indian vegan cuisine