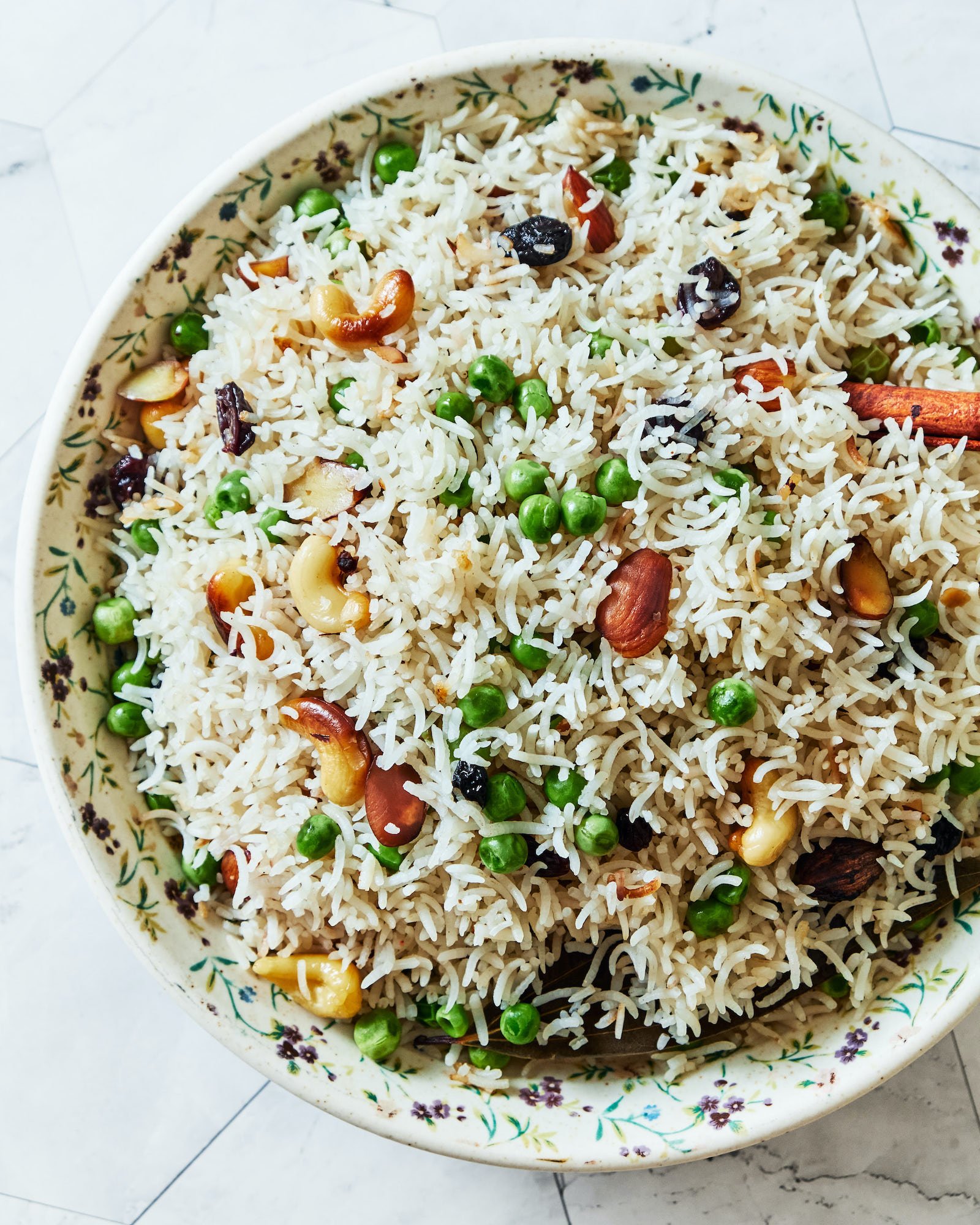 Sweet Pulao
This is a one-pot dish made using long-grain basmati rice and a combination of aromatics + dried nuts & fruits.
The rice is super fluffy, extremely fragrant, and so delicious. Pair it up with a savory side dish like Aloo Gobi (or Chana Masala) for an amazing dinner/lunch idea.
Let's go!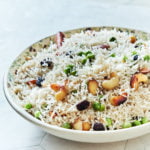 Print
Sweet Pulao (Indian Pilaf)
Easy Vegan Sweet Pulao (Indian Pilaf) Recipe
Pin Recipe
Recipe Video
Instructions
Gently wash basmati rice with water (until the water runs clear).

Transfer the washed (and drained) rice to a large bowl. Add 2 cups of warm water and let it soak for 30 minutes.

*After 30 minutes* Drain and set aside.

Set a large (thick-bottomed) pot over medium heat. Add oil.

Once it's hot, add bay leaves + cinnamon stick + cloves + black cardamom + green cardamoms. Stir-saute for 1 minute, or until fragrant.

Next, add almonds + cashews. Stir-saute for 2 minutes. Then add raisins and stir-saute for 30 seconds.

Add the rice + green peas + sugar + salt + water. Mix well.

Cover the pot and cook over medium heat for 16-18 minutes - or until the liquid is absorbed and the rice is done.

Turn off the heat. Half-open the lid and allow the pulao to rest for 10 minutes.

*After 10 minutes* Gently fluff the pulao using forks. Then mix everything gently using a spatula.

Sweet Pulao (Indian Pilaf) is ready. Serve with a savory side dish.
If you liked this Sweet Pulao, check out this delicious Broccoli Curry recipe we posted earlier.
If you like to support me and my work, check out my Indian Vegan, Air Fryer Vegan, and all my upcoming cookbooks where I teach you how to make hundreds of delicious plant-based recipes.
Thank you for stopping by!