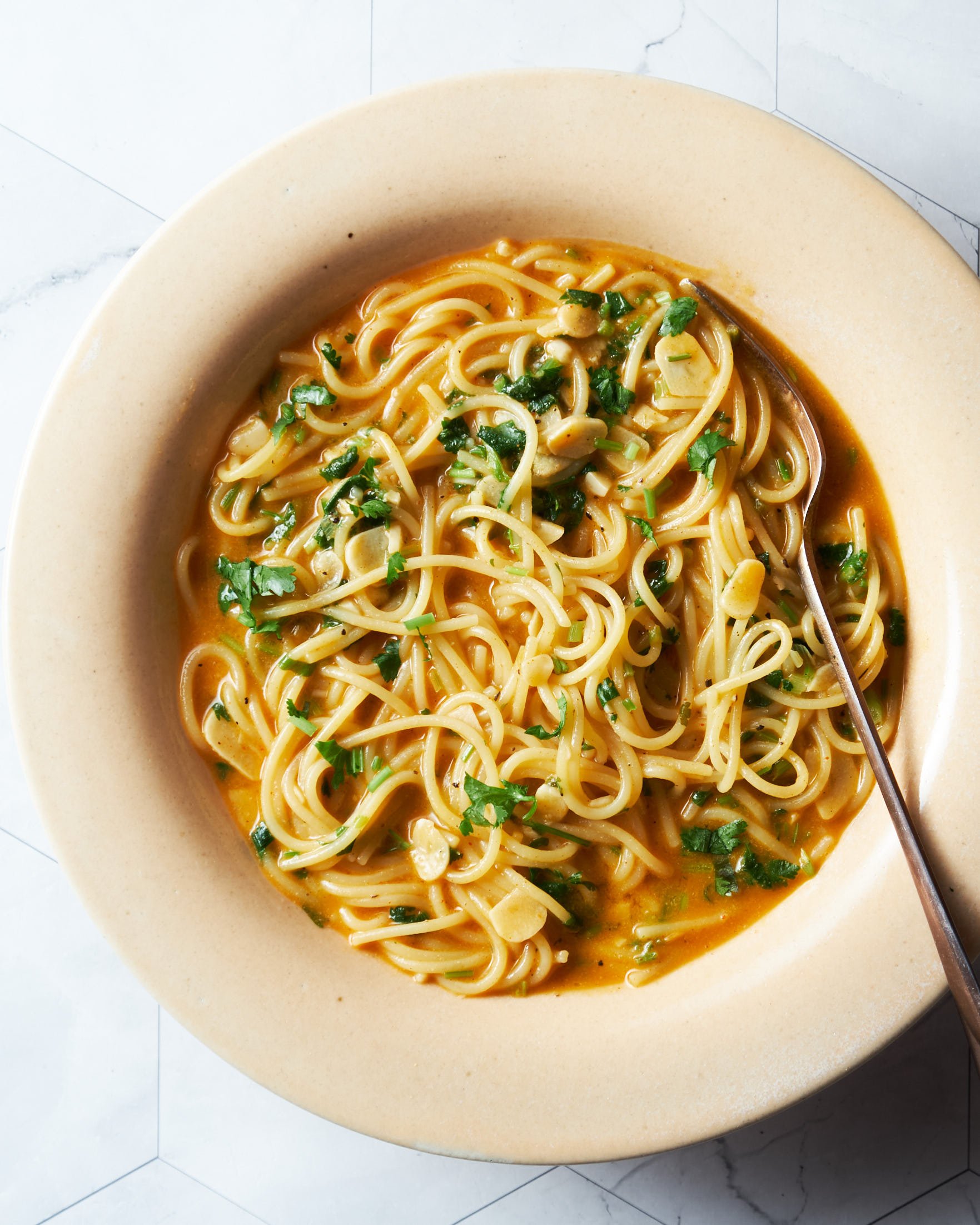 Saucy Smoky One-Pot Vegan Pasta
Hi friends! I'm excited to share with you my new favorite comfort food: Saucy Smoky One-Pot Vegan Pasta.
This dish has quickly become a go-to meal for me, and I've made it multiple times in the past week alone. It's delicious, easy to prepare, and ready in just 20 minutes with only 7 simple ingredients.
The sauce in this pasta is created using the starch that leaches out of the pasta during cooking. The starch, combined with the oil and pasta cooking water, forms an emulsion that thickens the sauce and coats the pasta evenly. This method is an easy and delicious way to add extra flavor to your pasta. Plus, the one-pot method makes cleanup a breeze.
I hope you'll enjoy this as much as I did.
Let's go!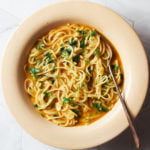 Print
Saucy Smoky One-Pot Vegan Pasta
Quick and Easy Saucy Smoky One-Pot Vegan Pasta Recipe
Pin Recipe
Recipe Video
Instructions
Set a large pot over low heat. Add oil + garlic. Stir-saute them in low heat (this helps infuse garlic flavor into the oil) for 5-7 minutes, or until lightly golden.

Add salt + water + spaghetti. Gently separate the spaghetti using a spatula so they don't glue/stick together. Turn up the heat to high and bring it to a boil (2-3 minutes).

As the water starts to boil and spaghetti starts to soften, stir-cook continuously for 7-9 minutes or until it's just al dente. This process emulsifies the starch and oil with water which creates the sauce.

Turn down the heat to medium. Add smoked paprika + pepper + nutritional yeast + lemon juice. Mix well and stir-cook for about 30 seconds.

Turn off the heat. Sprinkle freshly chopped cilantro (or parsley) and mix some more.

Transfer to serving bowl(s) and serve hot.
Nutrition
Calories:
524
kcal
|
Carbohydrates:
53
g
|
Protein:
15
g
|
Fat:
30
g
|
Saturated Fat:
4
g
|
Sodium:
1778
mg
|
Potassium:
534
mg
|
Fiber:
8
g
|
Sugar:
2
g
|
Vitamin A:
3587
IU
|
Vitamin C:
16
mg
|
Calcium:
66
mg
|
Iron:
4
mg
If you liked this Saucy Smoky One-Pot Vegan Pasta recipe, check out this yummy Creamy Miso Mushroom Pasta I posted earlier.
If you like to support me and my work, check out my Indian Vegan, Air Fryer Vegan, and all my upcoming cookbooks where I teach you how to make hundreds of delicious plant-based recipes.
Thank you for stopping by!
Keywords: Saucy Pasta, Starch Emulsion Sauce, Extra virgin olive oil, Smoked paprika, Garlic, Red pepper flakes, Parmesan cheese, Quick and easy pasta recipe, Budget-friendly meal, 20-minute dinner, Starch thickened sauce, One-pot pasta, Comfort food, Simple ingredients, Pasta cooking water, Emulsion technique, Versatile recipe, Plant-based alternative