Roasted Red Pepper Pasta
Hi friends! If you're anything like me, you love a good pasta dish. And if you're also a fan of bold flavors and easy-to-make meals, then roasted red pepper pasta is the perfect recipe for you.
The roasted peppers add a depth of flavor that is both smoky and sweet, and when paired with coconut milk and nutritional yeast, it creates a sauce that is rich and velvety. Plus, it's so simple to make! In just a few steps, you'll have a delicious meal on the table that everyone will love.
But it's not just about taste – roasted red pepper pasta is also a nutritious meal that's packed with essential vitamins and minerals. Red peppers are a great source of vitamin C, which boosts your immune system and helps your body absorb iron.
And by using whole wheat pasta, you're getting a healthy dose of fiber, which aids in digestion and helps keep you feeling full.
Let's go! 🙂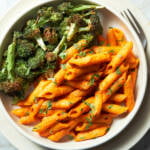 Print
Roasted Red Pepper Pasta
Rich and creamy roasted red pepper pasta recipe
Pin Recipe
Ingredients
3

tablespoons

olive oil

5

cloves

garlic

(whole)

1

large

onion

(roughly chopped)

2

large

red bell pepper

(roughly chopped)

1

cup

cherry tomatoes

(around 200 gm. / 7 oz.)

2

tablespoons

lemon juice

1/2

cup

coconut milk

2

tablespoons

nutritional yeast

1

tablespoon

smoked paprika

1

tablespoon

mixed herbs

Cooked pasta

Pasta water

Freshly chopped cilantro
Instructions
Preheat your oven to 400°F (200°C). Line a baking sheet with parchment paper.

In a large bowl, combine the garlic, onion, red bell peppers, cherry tomatoes, olive oil, salt, and pepper. Toss until all ingredients are well-coated in oil.

Spread the seasoned vegetables onto the prepared baking sheet in a single layer. Roast in the preheated oven for 25-30 minutes, or until the vegetables are tender and slightly charred.

While the vegetables are roasting, bring a large pot of salted water to a boil and cook the penne pasta according to the package instructions until al dente. Reserve around 1/2 cup of pasta water before draining the pasta.

Remove the roasted vegetables from the oven and let them cool for a few minutes. Transfer them to a blender or food processor.

Add the lemon juice, coconut milk, nutritional yeast, smoked paprika, and mixed herbs to the blender or food processor. Blend until smooth and creamy. Taste and adjust salt and pepper as needed.

In a large pan or skillet, heat the blended sauce over medium heat. Add the cooked penne pasta and gently mix to combine. Gradually add the reserved pasta water (1/4 cup to 1/2 cup), stirring continuously, until the sauce reaches your desired consistency.

Once the pasta is well-coated in sauce, remove the pan from heat. Serve the pasta in bowls, garnished with freshly chopped cilantro, and some roasted veggies on the side (I added some roasted broccoli). Enjoy your Vegan Roasted Red Pepper Pasta!
Notes
Roasting the vegetables: Keep an eye on the vegetables while they roast, as oven temperatures can vary. You may need to adjust the cooking time slightly to ensure they are tender and slightly charred but not burnt.

Adjusting sauce thickness: The reserved pasta water is essential for adjusting the sauce's thickness. The starchy water helps create a silky texture and allows the sauce to cling to the pasta. Add the pasta water gradually and stir until the desired consistency is achieved.

Cooking pasta al dente: It's crucial to cook the pasta al dente, as it will continue to cook slightly when combined with the heated sauce. Overcooked pasta can become mushy and lose its shape.

Storage and reheating: This pasta can be stored in an airtight container in the refrigerator for up to 3 days. To reheat, gently warm the pasta in a saucepan over low heat, adding a splash of water or plant-based milk if needed to loosen the sauce.
Nutrition
Calories:
451
kcal
|
Carbohydrates:
62
g
|
Protein:
13
g
|
Fat:
18
g
|
Saturated Fat:
7
g
|
Polyunsaturated Fat:
2
g
|
Monounsaturated Fat:
8
g
|
Sodium:
20
mg
|
Potassium:
681
mg
|
Fiber:
6
g
|
Sugar:
8
g
|
Vitamin A:
3704
IU
|
Vitamin C:
122
mg
|
Calcium:
50
mg
|
Iron:
3
mg
If you liked this Roasted Red Pepper Pasta recipe, check out these delicious Vegan Dan Dan Noodles I posted earlier.
If you like to support me and my work, check out my Indian Vegan, Air Fryer Vegan, and all my upcoming cookbooks where I teach you how to make hundreds of delicious plant-based recipes.
Thank you for stopping by!
Keywords: Vegan Roasted Red Pepper Pasta, Dairy-Free Red Pepper Pasta, Creamy Vegan Pasta Recipe, Plant-Based Penne Pasta, Roasted Bell Pepper Sauce, Nutritional Yeast Pasta Sauce, Smoked Paprika Vegan Pasta, Coconut Milk Pasta Sauce, Oven-Roasted Vegetable Pasta, Easy Vegan Dinner Recipe, Healthy Vegan Pasta Dish, Flavorful Vegan Pasta Sauce