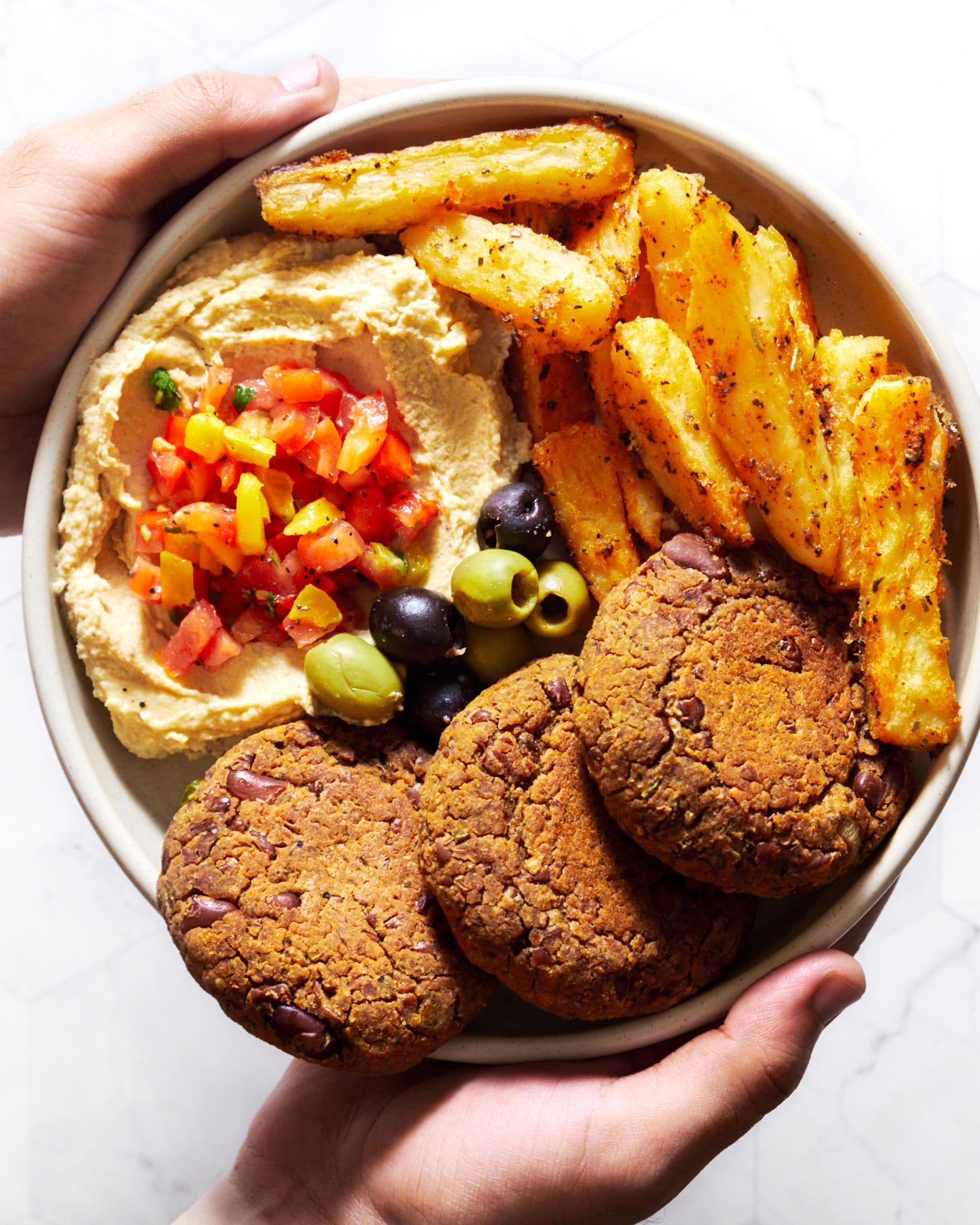 Kidney Bean Patties
Hi friends! I'm super excited to share this mouthwatering kidney bean patties recipe that you'll absolutely love. These delightful plant-based patties are not only tasty but also loaded with nutrition. Trust me; you won't be able to get enough of them!
Kidney beans are nutritional powerhouses, boasting protein, fiber, and iron, making these patties a fantastic addition to any meal.
And the best part? They're incredibly versatile! You can savor them as a scrumptious veggie burger in a bun or serve them with baked potatoes and creamy hummus for a wholesome meal.
But that's not all! These kidney bean patties can be crumbled over a fresh salad for an added protein boost or even stuffed into pita pockets with veggies and tahini sauce for a Mediterranean twist. The possibilities are endless.
Baking these patties gives them a delightfully crispy exterior while keeping the interior tender and moist. And since they're baked, you can indulge guilt-free, knowing they're a healthier alternative to deep-fried patties.
So, give these amazing kidney bean patties a try, and let me know how you like them.
Let's go! 🙂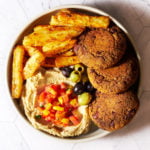 Print
Kidney Bean Patties
Quick & easy Kidney Bean Patties recipe.
Pin Recipe
Instructions
Step A : Cook the kidney beans (skip to step 5 if you're using canned beans)
Soak kidney beans in water for 8 hours or overnight.

*After 8 hours* Drain and transfer the beans to a jiggletop / stovetop / electric pressure cooker. Add 3 cups of water + 1/2 teaspoon salt.

Secure the lid and seal the valve.

For jiggletop pressure cooker, cook over medium heat for 5-6 whistles. For stovetop pressure cooker, cook over medium heat for 20 minutes after it indicates high pressure.For electric pressure cooker, set the timer to 25 minutes on HIGH PRESSURE.

Once it's cooked, do a quick pressure release. Open the lid and drain.

Transfer to a large bowl and mash it up using a potato masher. Set aside.
Step B : Saute (and then blend)
Set a pan over medium heat. Add oil.

Once it's hot, add garlic + onion and stir-saute for 2-3 minutes, or until the onion's translucent.

Now, add peas and stir-cook for 3 minutes. Turn off the heat and transfer this mixture to a blender.

Add lemon juice + nutritional yeast + paprika + salt + pepper to the blender. Blend to a paste.
Step C : Shape them into patties
Transfer this paste to the large bowl (that contains mashed Kidney Beans). Add oat flour and mix well using your hands.

Scoop a portion of this mixture and shape it into a round patty. Depending on the size, you should be able to make 5-6 patties. Transfer the patties to a tray.
Step D : Freeze (optional) and then bake
Chill the patties for 3-4 hours (optional). Brush the top with a bit of olive oil. Then bake for 40 minutes at 230 C (450 F), flipping halfway.

Kidney bean patties is ready.
Nutrition
Serving:
1
patty
|
Calories:
148
kcal
|
Carbohydrates:
22
g
|
Protein:
7
g
|
Fat:
4
g
|
Saturated Fat:
1
g
|
Polyunsaturated Fat:
1
g
|
Monounsaturated Fat:
2
g
|
Sodium:
5
mg
|
Potassium:
292
mg
|
Fiber:
5
g
|
Sugar:
2
g
|
Vitamin A:
119
IU
|
Vitamin C:
10
mg
|
Calcium:
26
mg
|
Iron:
2
mg
If you liked this Kidney Bean Patties, check out this delicious Kidney Bean Burger I posted earlier.
If you like to support me and my work, check out my Indian Vegan, Air Fryer Vegan, and all my upcoming cookbooks where I teach you how to make hundreds of delicious plant-based recipes.
Thank you for stopping by!
Keywords: Kidney Bean Patties, Plant-Based Meal, Veggie Burger Recipe, Protein-Packed Patties, Nutritious Vegetarian Dish, Baked Bean Patties, Healthy Vegan Meal, Kidney Bean Burger, Easy Bean Patties, Gluten-Free Veggie Patties, Iron-Rich Recipe, Fiber-Rich Meal, Legume-Based Recipe, Wholesome Vegan Dinner, Kidney Bean Pita Pocket, Vegetarian Burger Alternative, Bean Patty Salad Topper