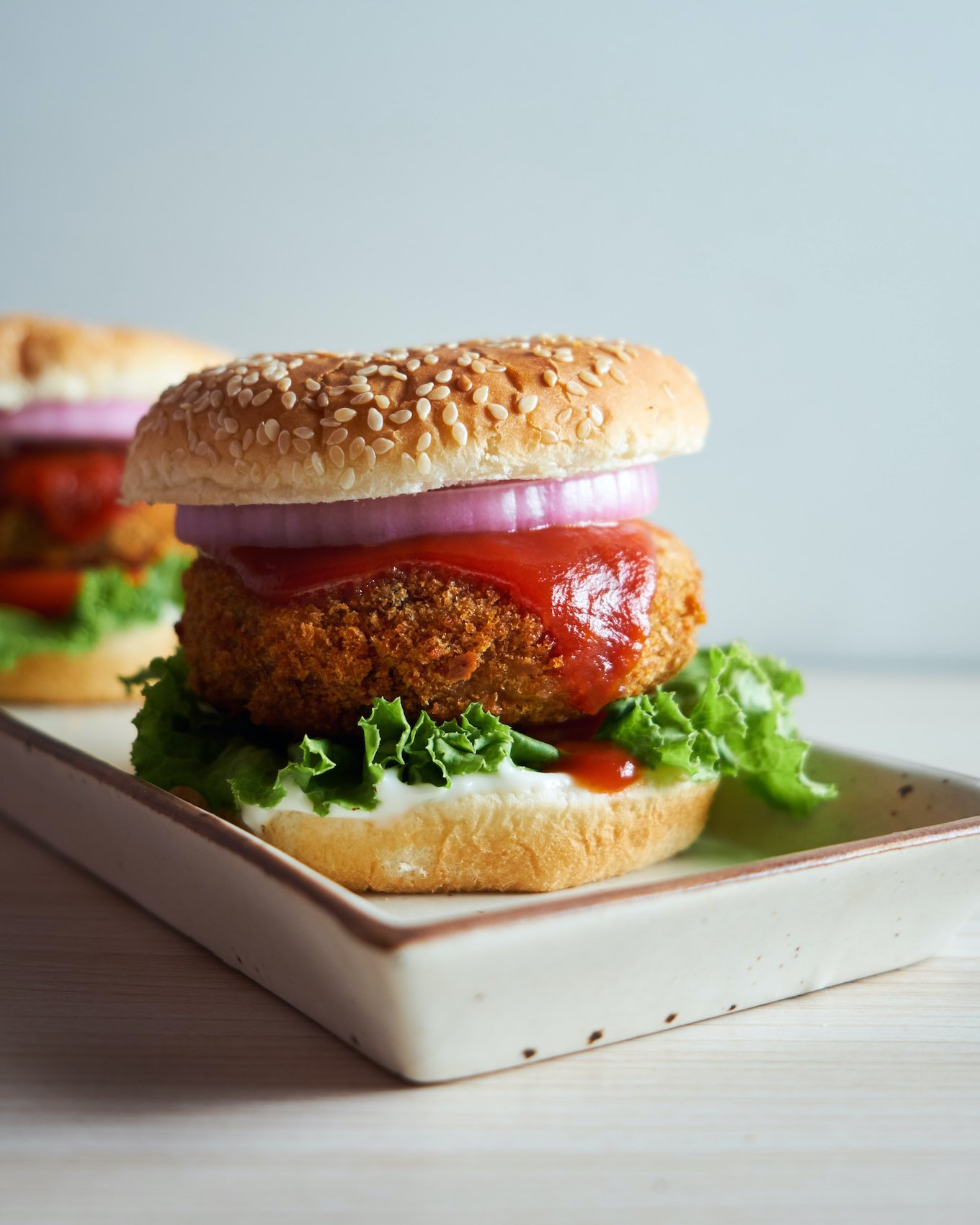 Kidney Bean Burger
Hi friends! I've been experimenting with this new Kidney Bean Burger, and I have to say, it came out absolutely delicious.
The kidney bean patty is made from mashed kidney beans, mixed with spices and herbs, formed into patties, and cooked. The final product is a burger that's crispy on the outside, and soft, chewy, and flavorful on the inside.
It's also a great source of plant-based protein, fiber, and nutrients. It's low in fat and cholesterol-free, making it a great alternative to traditional meat-based burgers, perfect for vegans or anyone looking to add more plant-based options to their diet. Give it a try and let me know what you think.
Let's go!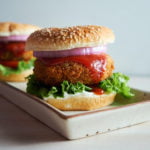 Print
Kidney Bean Burger
Delicious vegan kidney bean burger by Veganbell.
Pin Recipe
Recipe Video
Ingredients
Instructions
Preparing the burger patties,
In a large bowl, add 1 cup kidney beans + 4 cups water. Soak overnight.

Drain and transfer the beans to your pressure cooker (electric or stovetop). Add a pinch of salt + 1 cup of water.

For electric pressure cookers, cook for 22-25 minutes on MANUAL settings, High Pressure. For stovetop pressure cookers, cook for 5-6 whistles over medium heat. Do a quick release (we don't want the beans to become mushy).

Drain and transfer to a large bowl. Lightly mash them using a potato masher.

Add grated carrots + charred onions + salt + pepper + smoked paprika + onion powder + garlic powder. Mix them gently using your hands.

Add breadcrumbs and mix some more.

Scoop a handful (around 4-5 tablespoons) of the mixture and give them the shape of a burger patty. You can also use the lid of a container jar. Simply cover the inner of a lid with a plastic wrap and place a handful of the mixture in the lid. Gently press the mixture, remove/add more if needed, and then flip.

Transfer the patties to a baking sheet and let them chill for at least 2 hours.
Dipping in the slurry,
In a medium mixing bowl, add all-purpose flour + cornflour + 2/3 cup cold water. Mix well until smooth.

Dip the chilled patties and coat them on both sides.
Coating,
Now place them in a bowl of breadcrumbs. Flip and coat on all sides.
Shallow-frying,
Shallow-fry the patties until they're brown on both sides.

Layer and assemble the burger. I used vegan mayo + lettuce + tomatoes + patty + ketchup + onion in my recipe.
Notes
You can use canned kidney beans if you have one.
To prepare the charred onion, simply fry 1 sliced onion in 1 teaspoon of oil until they're dark. Stir frequently. You can also use lightly sauteed onions if you wish.
Nutrition
Serving:
1
burger
|
Calories:
376
kcal
|
Carbohydrates:
41
g
|
Protein:
14
g
|
Fat:
23
g
|
Sodium:
506
mg
|
Potassium:
454
mg
|
Fiber:
7
g
|
Sugar:
7
g
|
Vitamin A:
6610
IU
|
Vitamin C:
4.3
mg
|
Calcium:
146
mg
|
Iron:
5
mg
If you enjoyed this Kidney Bean Burger recipe, check out this delicious Vegan BBQ Jackfruit Slider I posted earlier.
If you like to support me and my work, check out my Indian Vegan Cookbook (and all my upcoming cookbooks) on Qookbooks.com, where I teach you how to make 64 delicious Indian plant-based recipes ranging from rice, dals, curries, breads, desserts, and more!
Thanks for stopping by! 🙂
Keywords: Vegan, Kidney bean, Plant-based, Meatless, Vegetarian, Bean, Healthy, Sustainable, Nutritious, Low-fat, Whole food, High-protein, Fiber-rich, Meat alternative, Bamboo, Dairy-free, Gluten-free, Non-GMO, Organic, Easy to make.