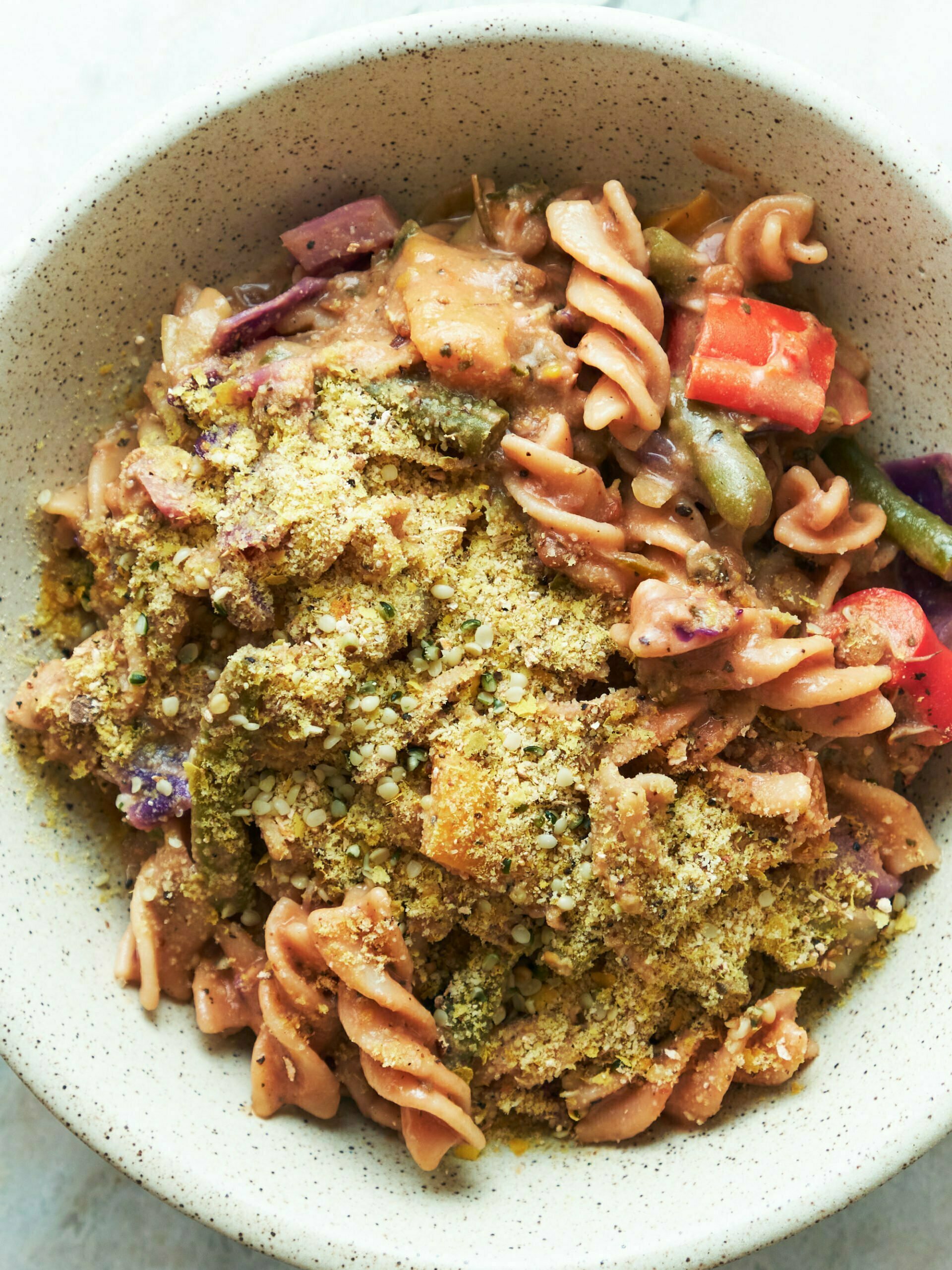 Instant Pot Veggies Tahini Pasta
Hi friends!
If you're looking for a quick and easy vegan pasta recipe that's perfect for summer, this Instant Pot veggies tahini pasta is a must-try! Made in just one pot (thanks to the magic of the Instant Pot), this dish is packed with colorful vegetables like cabbage, green beans, and bell peppers.
This recipe is super simple to make, with just a handful of easy-to-procure ingredients. The only exception is sweet relish, which may not be something that everyone has on hand. However, this ingredient is totally optional and can easily be left.
To make this dish a little more protein-rich, I like to add some sprouted brown lentils. This gives the pasta a little extra staying power and makes it a more satisfying meal.
Simply dump all of the ingredients into the Instant Pot, set it, and forget it. When the timer goes off, you'll have delicious, healthy, and satisfying vegan pasta that's perfect for lunch or dinner.
Let's go!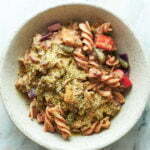 Print
Instant Pot Veggies Tahini Pasta
Simple, Easy, Vegan Instant Pot Veggies Tahini Pasta Recipe
Pin Recipe
Recipe Video
Ingredients
2

cups

chopped cabbage

1

cup

sliced green beans

1

cup

chopped bell peppers

1

cup

sprouted brown lentils

(see NOTES to prepare how)

1

teaspoon

salt

(or adjust to taste)

1/2

teaspoon

pepper

1

tablespoon

dried mixed herbs

1

tablespoon

garlic granules (or use 3 large garlic cloves - chopped)

1

cup

tomato puree

1/4

cup

hot and sweet relish

3

cups

water

2

cups

fusilli pasta

3

tablespoons

extra virgin olive oil

3

tablespoons

nutritional yeast

1/4

cup

tahini
Instructions
Add all the ingredients (except tahini and nutritional yeast) to your Instant Pot. Using a spatula, gently press and make sure everything is nicely submersed in the water.

Cover the lid and seal the valve. Select 'Pressure Cook' and set the timer to 2 minutes - High Pressure, High Heat.

Once the timer goes off, do a quick pressure release. Uncover and give everything a nice mix.

Add nutritional yeast + tahini and mix well.

Veggies Tahini Pasta is ready! Transfer to serving bowl(s) and enjoy while it's still hot.
Notes
During my experiment, I found that different brands of Pasta (of the same type - Fusilli) cooked differently. One brand was perfectly cooked and had a biteable texture when cooked for 2 minutes...while the other felt a bit under-cooked when cooked for the same 2 minutes.
So do consider this fact when you're cooking for the first time.
To prepare 1 cup sprouted lentils: Rinse 1/2 cup brown lentils and soak for at least 8 hours or overnight. Once soaked, rinse + drain, and transfer to a sprouting jar/container.

Invert the jar over a bowl at an angle so that the lentils will drain while still allowing air to circulate. Rinse and drain 2-3 times a day until sprout tails appear.

Taste sprouts daily - stop rinsing and draining when sprouts have reached desired length and flavor.

If you don't want to sprout and use the lentils directly, just rinse & soak 1/2 cup of brown lentil for 8 hours. Rinse and drain and use it in place of sprouted lentils.
Nutrition
Calories:
754
kcal
|
Carbohydrates:
102
g
|
Protein:
33
g
|
Fat:
27
g
|
Saturated Fat:
4
g
|
Polyunsaturated Fat:
7
g
|
Monounsaturated Fat:
15
g
|
Sodium:
1005
mg
|
Potassium:
1650
mg
|
Fiber:
30
g
|
Sugar:
17
g
|
Vitamin A:
2616
IU
|
Vitamin C:
98
mg
|
Calcium:
162
mg
|
Iron:
10
mg
If you liked this Instant Pot Veggies Tahini Pasta recipe, check out this delicious Vegan Shoyu Ramen recipe I posted earlier.
If you like to support me and my work, check out my Indian Vegan, Air Fryer Vegan, and all my upcoming cookbooks where I teach you how to make hundreds of delicious plant-based recipes.
Thank you for stopping by!
Keywords: Vegan, Instant Pot, Pasta, Cabbage, Green beans, Bell peppers, Tahini, Brown lentils, Sprouted lentils, Protein-rich, One-pot, Summer pasta, , Easy, Delicious, Healthy, Simple ingredients