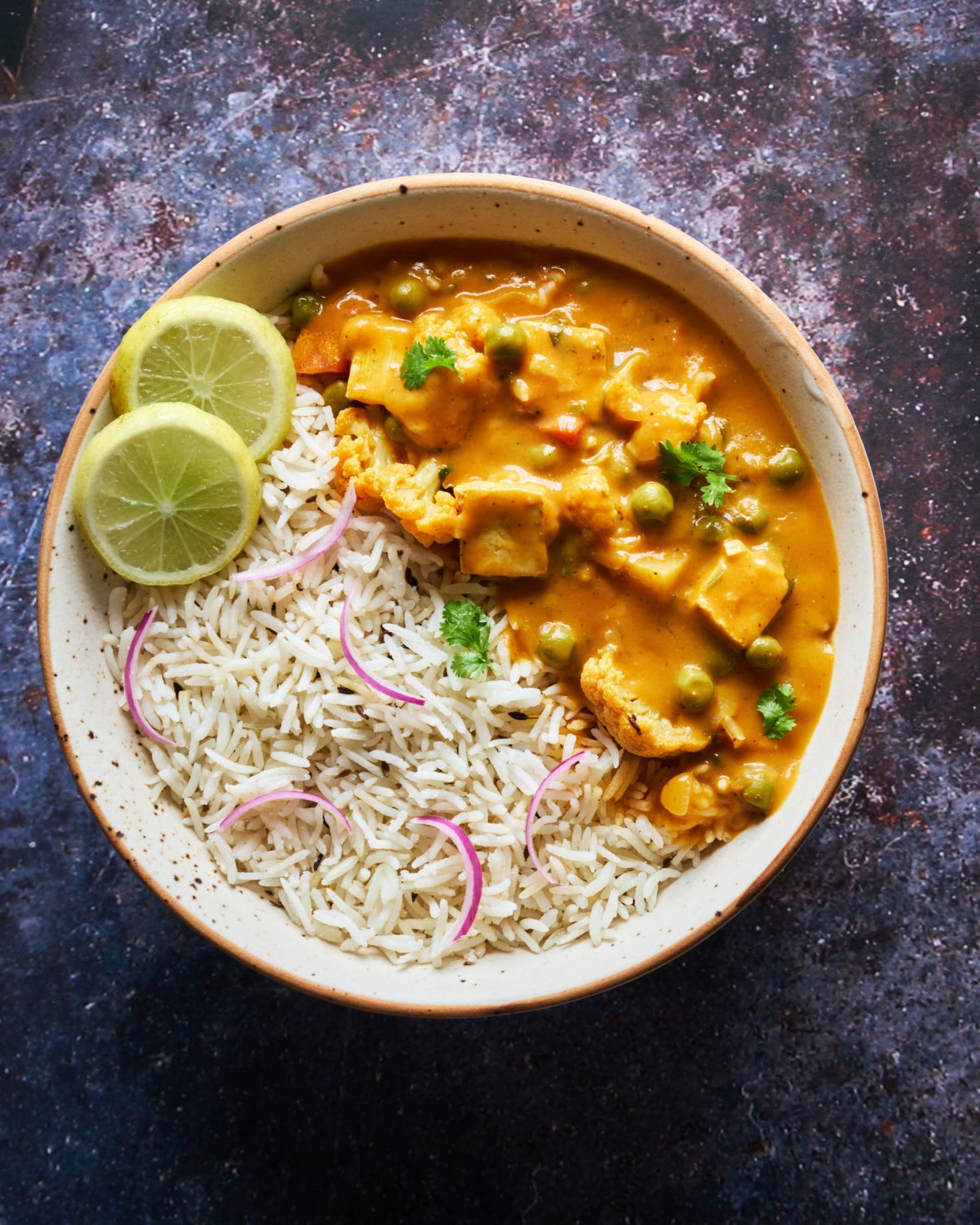 Golden Tofu Veggie Curry
Hi friends! Last night I whipped up a large batch of Golden Tofu Veggie Curry for my family dinner, and it turned out to be a smashing success. This dish is a beautiful marriage of tender tofu, colorful veggies, and an array of fragrant spices, all simmered together to create a luscious and hearty curry.
What makes this curry so great? For starters, it's incredibly hearty and filling. The tofu and vegetables make it a substantial meal that will keep you satisfied for hours. Plus, it's loaded with nutrients from the veggies, making it a healthy option that doesn't skimp on flavor.
And speaking of flavor, this curry has it in spades. The combination of spices – including turmeric, cumin, coriander, and garam masala – gives it a warm, comforting taste that's perfect for cooler weather.
Another great thing about this Golden Tofu Veggie Curry is that it's easy to make. It's a one-pot dish, so you don't have to worry about using a lot of dishes or spending a lot of time on prep.
You can also make this a large-batch meal, so it's perfect for feeding a crowd or for meal prep. You can easily store leftovers in the fridge or freezer and reheat them when you're ready to eat.
And because it's so versatile, you can pair it with rice, naan, or any flatbreads you like.
Let's go! 🙂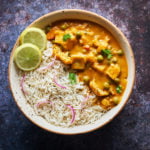 Print
Golden Tofu Veggie Curry
Rich, and delicious golden tofu-veggie curry recipe by Veganbell.
Pin Recipe
Recipe Video
Instructions
Set a pan (preferably deep) over medium heat. Add oil.

Once it's hot, add garlic + ginger + onion and stir-saute for 3-4 minutes, or until the onion is golden.

Add tomato puree + turmeric powder + cumin powder + coriander powder + Kashmiri red chili powder + salt + pepper. Mix well, cover the pan, and cook for 3-4 minutes (stir occasionally). 

Next, add carrots + green peas + cauliflower florets + potatoes + jaggery powder + water.

Mix well. Cover the pan and cook for 15 minutes (stir occasionally). 

Uncover the pan and add tofu + coconut milk. Stir gently.

Cover the pan, turn down the heat to low-medium, and simmer for 15 minutes (stir occasionally).

Turn off the heat and sprinkle garam masala + freshly chopped cilantro. Give everything a gentle mix. Serve hot over rice.
Notes
The nutritional information DOES NOT contain the macros from cooked rice.
Nutrition
Calories:
633
kcal
|
Carbohydrates:
39
g
|
Protein:
25
g
|
Fat:
45
g
|
Saturated Fat:
30
g
|
Sodium:
485
mg
|
Potassium:
1306
mg
|
Fiber:
9
g
|
Sugar:
11
g
|
Vitamin A:
4568
IU
|
Vitamin C:
57
mg
|
Calcium:
309
mg
|
Iron:
12
mg
If you liked this Golden Tofu Veggie Curry recipe, check out this delicious Aloo Gobi I posted earlier.
If you like to support me and my work, check out my Indian Vegan Cookbook (and all my upcoming cookbooks) on Qookbooks.com, where I teach you how to make 64 delicious Indian plant-based recipes ranging from rice, dals, curries, breads, desserts, and more!
Thanks for stopping by! 🙂
Keywords: Golden Tofu Veggie Curry, Vegan Curry Recipe, Tofu Curry, Healthy Vegan Meal, Spicy Tofu Curry, Protein-Packed Vegan Dish, Nutritious Plant-Based Curry, Easy Tofu Vegetable Curry, Vegan Dinner Ideas, Gluten-Free Curry Recipe, Wholesome Indian Dinner Recipe Ideas, Simple Ingredient Indian Lunch Ideas