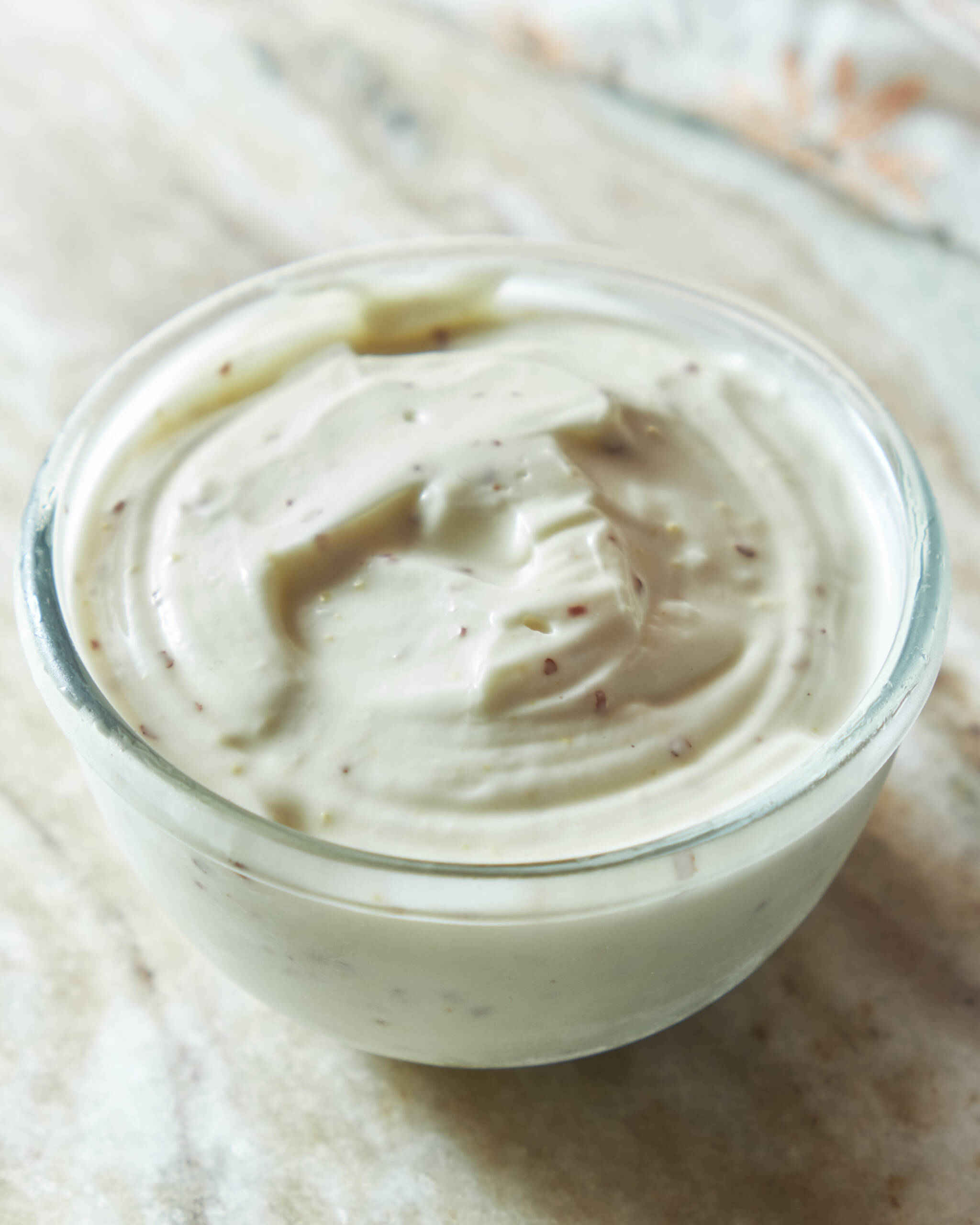 How To Make Homemade Vegan Mayonnaise
Hi friends! If you're new to the world of vegan cooking, you might be surprised to learn that you can make your own homemade vegan mayonnaise without eggs or dairy.
And the best part? It's just as creamy and delicious as the real thing! With just 5 pantry staples (neutral oil + soy milk + vinegar + lemon juice + salt + sugar + mustard paste) and a blender, you can create the perfect vegan mayo.
Just blend everything together (except for the oil) until it's smooth, then slowly drizzle in the oil while continuing to blend until it's thick and creamy. I recommend using an immersion blender for the best results, but a regular blender or food processor will work just fine.
This recipe is also super customizable. Want it extra tangy? Add more vinegar. Prefer it sweeter? Add a pinch of sugar. The possibilities are endless, and the end result is always delicious.
You can use vegan mayo in so many ways! Of course, it's a great condiment for sandwiches and wraps, but it can also be used as a base for dips and sauces.
Try mixing it with some hot sauce or chipotle powder for a spicy dip, or stir in some herbs and lemon juice for a creamy salad dressing.
You can even use it as a substitute for sour cream or yogurt in certain recipes, like potato salad or coleslaw.
Let's go! 🙂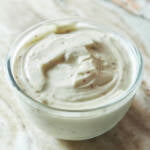 Print
Homemade Vegan Mayonnaise
Quick and easy homemade vegan mayonnaise recipe.
Pin Recipe
Ingredients
1/2

cup

soy milk

1

tablespoon

lemon juice

1

tablespoon

vinegar

1/2

teaspoon

salt

1

teaspoon

sugar

1

teaspoon

mustard paste

1

cup

neutral oil

(I have used grapeseed oil)
Instructions
Add soy milk + lemon juice + vinegar + salt + sugar + mustard paste in a (preferably deep) bowl.

Blend all the ingredients using an immersion blender (about 20 seconds).

Slowly drizzle in the oil while you're blending. Blend for 2 to 3 minutes until the mayo is smooth and creamy.
Notes
It's important to note that over-blending the mayo can cause it to break and become too thin or runny. So, it's best to keep an eye on the texture and stop blending once it has reached a smooth and creamy consistency.
You can store homemade vegan mayo in an airtight container in the refrigerator for up to one week. Because this mayo contains soy milk (and has no preservatives), I wouldn't suggest keeping it for more than a week.
If you liked this Homemade Vegan Mayonnaise recipe, check out this delicious beginner-friendly Vegan Date Caramel recipe I posted earlier.
If you like to support me and my work, check out my Indian Vegan, Air Fryer Vegan, and all my upcoming cookbooks where I teach you how to make hundreds of delicious plant-based recipes.
Thank you for stopping by!
Keywords: vegan mayo recipe, homemade vegan mayonnaise, dairy-free, egg-free, plant-based condiment, soy milk, gluten-free, vegan condiment recipe, quick recipe